Riddick (2013) Movie Review | by tiffanyyong.com
Recommended Audience: Fans of Vin Diesel, Jordi Mollà, Matt Nable, Katee Sackhoff, Nolan Gerard Funk, Sci-Fi, Thriller, Action movie fans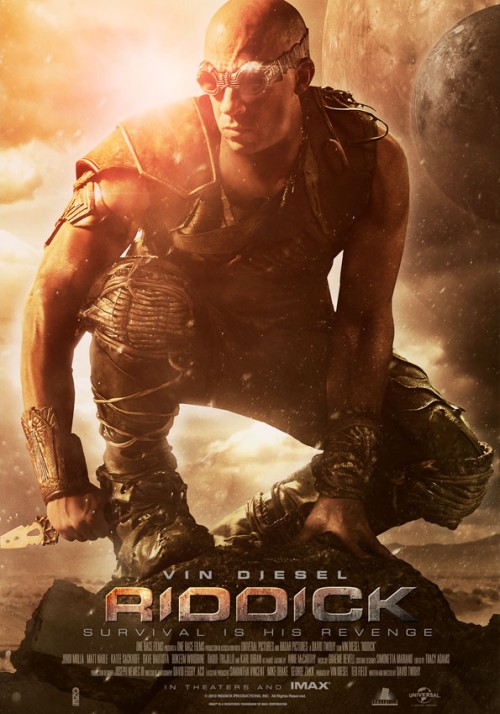 Riddick Movie Synopsis
A direct sequel to The Chronicles of Riddick: Pitch Black as the main character abandons the Necromonger throne to seek out his homeworld, Furya. Riddick (Vin Diesel) leaves peacefully and the Necromongers agree to escort him on his journey – only to maroon the fugitive on an unknown planet with highly evolved (and subsequently extremely lethal) animal life.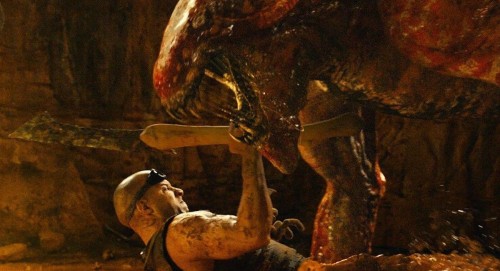 Left for dead on a sun-scorched planet, Riddick finds himself up against an alien race of predators. Activating an emergency beacon alerts two ships: one carrying a new breed of mercenary (bounty hunters), the other captained by a man from Riddick's past.
Riddick Viewer Rating: 3.5/5 ****
Riddick Movie Review:
Here's another movie to add to my collection of "Haven't-watched-the-first-few-installments-but-reviewing-the-sequel". I had no idea this movie was a sequel, as the name of a sequel will usually indicate that it's an installment. This sci-fi movie is steered towards some humour and gore and a lot of action (duh!), which kept me engaged except for the lack of subtitles which left me wondering what Riddick was drawling about at certain parts of the film.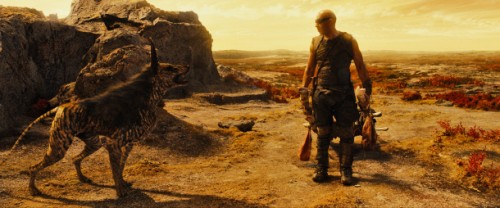 So Riddick, a human-lookalike "alien" who can see in the dark, also known as a Furyan, a warrior race species (yes, it's a Alien versus Human-lookalike Alien war!). He's a survival, pretty smart given that he had no formal education (according to wikipedia). If you have not watched the first 2 installments, the opening might leave you a little befuddled. But it would kinda make sense 5- 10 minutes into the film, and everything was actually pretty straight forward and clear from then on, once the revelation sets in.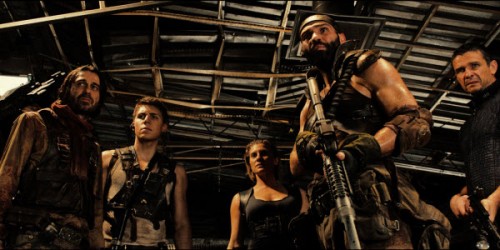 My friend found the plot predictable, for example, the people who would die in the end, but I thought there were a few good surprises and twists. I like how there were 2 groups of mercenaries coming to capture Riddick, each with a different purpose. Before I could familiarize myself with every single one, three went down, saving me the trouble of remembering who's who.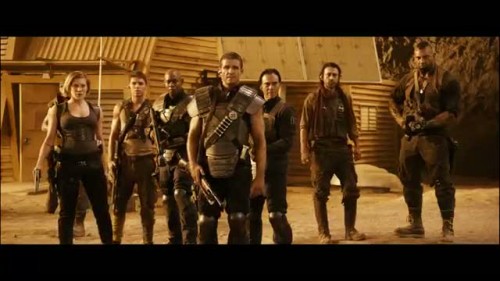 Boss Johns (Matt Nable) was the smarter leader of the two, someone you would expect to capture Riddick, and he had a complicated backstory to unpack with Riddick (which will help you uncover his motives if you try re-watching Pitch Black beforehand). The only female in the male-dominant movie (unless the monsters are female), Dahl (Katee Sackhoff) behaved almost like guy, handled the sexist Santana (Jordi Mollà) as easy as you remember your alphabets. It was satisfying to watch how she punched him hard, showing some girl power. But it was even more interesting to watch Riddick "flirting" with her in his somewhat-sexy-drawl.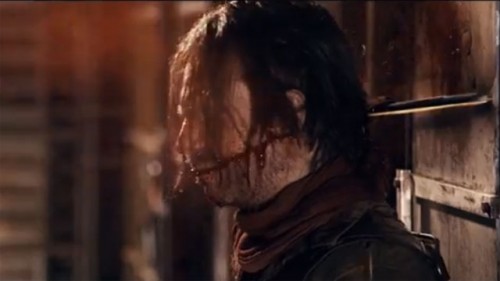 Another notable character would be Santana (Jordi Mollà), he was so unscrupulous (Right From The Start!) that I couldn't wait for his death. His boastful shout-out to Riddick (wanting to put Riddick's head into the box for double bounty) came back to haunt him at various points of the film. And I have to admit, those moments are indeed heart-stopping. I shouldn't be giving too many spoilers if you haven't watched the film, but it is as scary and exciting as the Russian roulette. Not to forget, his own death, which give the audience a look at the cross-section of a human's head.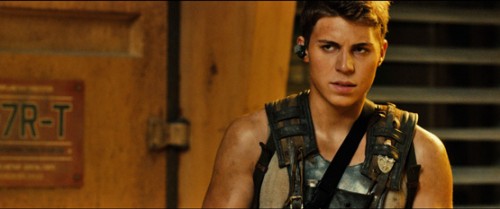 Luna (Nolan Gerard Funk), the more humane (or you can say timid) one amongst the money hungry bounty hunters was perhaps the next best thing besides Riddick's matrix-like slide across the underside of the scorpion-like creature to kill it. He's such an eye-candy standing within the group of bulky hunters that I can't help but keep noticing him. You can bet many of the laugh-worthy moments came from him and his God-praying moments. And [Spoilers ahead] I'm glad to tell you, he was one of the few who survived the alien battle. Seriously, I was thinking halfway through the film (when I realise that the mercenaries were dying one by one), that I simply can't bear to see him die in the film (it would be such a pity!). I was very glad that the director/scriptwriter agreed with me too. 😛
Do You Know?
Vin Diesel is the producer of the Riddick movie. (ok, I'm sorry, I simply can't find any fun facts about the movie :P)
8 Casts Interviews
Check out Riddick Official Website and Facebook Page!
Riddick will be in cinemas on 12 September 2013.
xoxo



Facebook | Instagram | Twitter | YouTube
*Disclosure:No monetary compensation was received for the movie review.
Let me know what you think of the film in the comment section below. If you've seen the movie and agree/disagree with my review, feel free to comment and let me know!
Follow me on Twitter @tiffanyyongwt for future movie reviews, as well as other lifestyle reviews. 🙂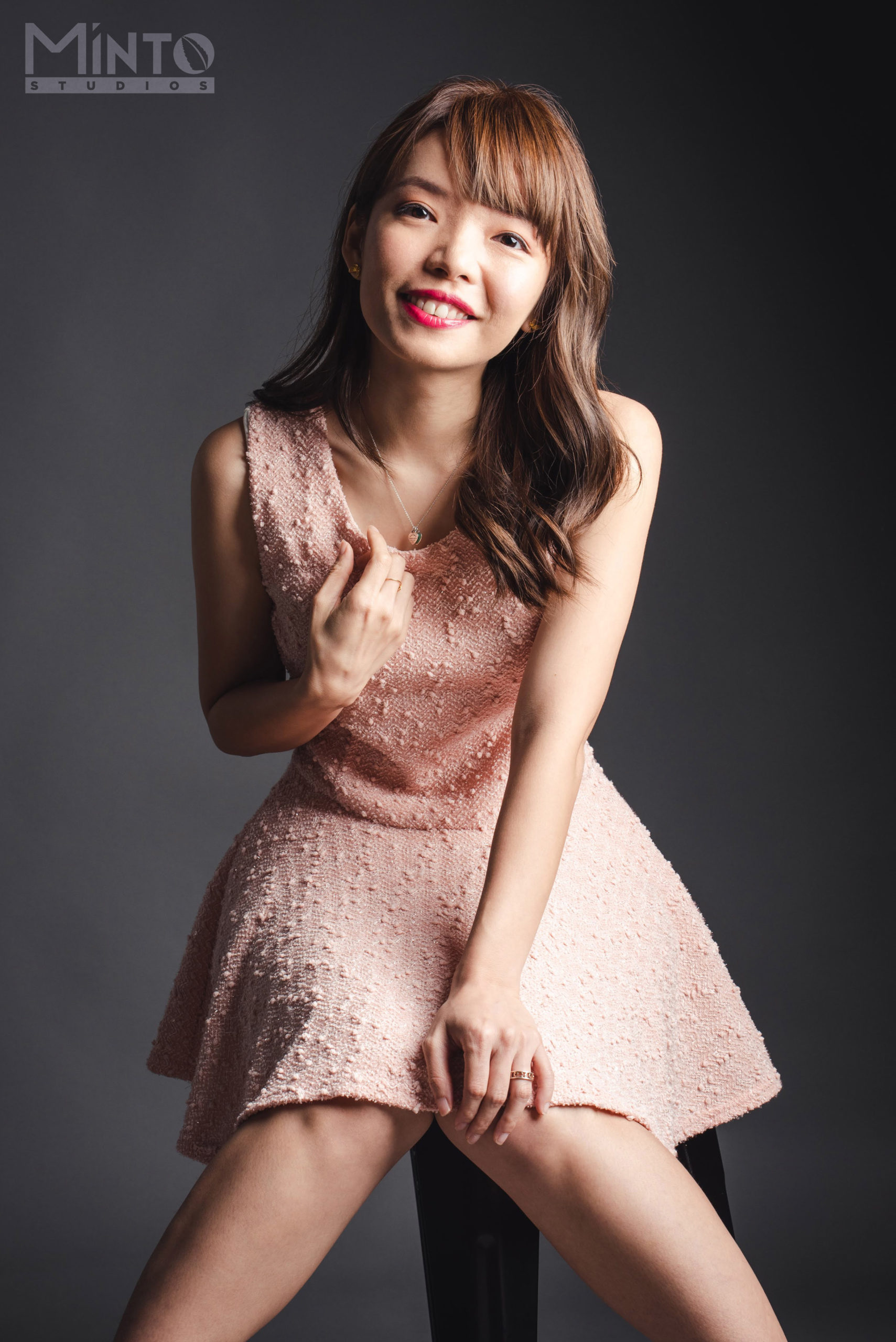 1/2 of #TheEpiphanyDuplet, Tiffany Yong juggles her ABCs – Acting, Blogging and Coaching/Consulting as she is fuelled by passion and drive to succeed.
It is not easy to make a living in Singapore just purely based on Acting, so with Blogging to help her with her online presence, and Coaching kids drama, private tutoring and freelance social media consulting to finance her life, she is currently leading the life most people hope to have: Living the Dream!