Hada Labo Perfect Gel: Hydrating or Oily?
Everyone knows hydration is very important for skin. I used to think that if my skin is oily and acne-prone, I shouldn't be putting moisturiser on it. But I was wrong. Our skin secretes more oil when the topmost outer layer is too dry (using facial cleanser that is too strong or washing face for too many times). So many a times, our skin is actually protesting and needing moisture by producing oil.
I was recently introduced with Hada Labo Perfect Gel, which works as an essence, cream and mask all at once, and claimed to be suitable for daily use as it has ability to provide 24 hours deep moisturizing effect.
Product Claims: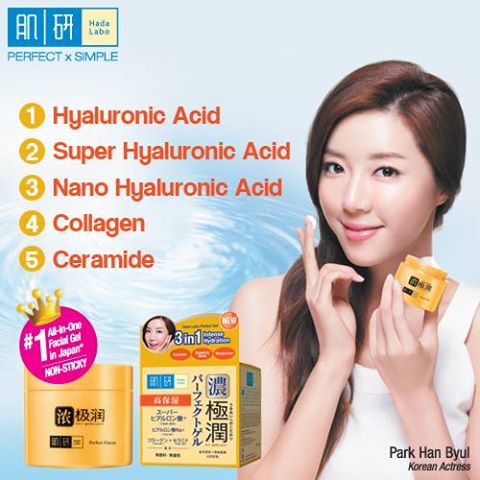 The Hada Labo Perfect Gel has a rich cream texture that is non-sticky, allowing your skin to feel light even after applying. Its versatility and effectiveness has won the hearts of so many women that it is No.1. Sales in 'All-in-One' gel product segment in Japan.
3 Types of Hyaluronic Acid:
Hyaluronic Acid is able to hold 6l of water per gram, providing intense moisture to the skin when applied.
Super Hyaluronic Acid is able to hold 2X as much water than Hyaluronic Acid per gram, providing maximum moisturization.
Nano Hyaluronic Acid is able to penetrate deep into the skin, providing long lasting and deep moisture to the skin.
Collagen:
As the body's collagen levels decline, the skin starts to age with wrinkles, large pores and poor skin clarity. The Hada Labo Perfect Gel contains collagen to provide firm, elastic and wrinkle-free skin.
Ceramide:
Skin that lacks ceramide is often dry,irritated, and often easily affected by the sun and dust in air. Hada Labo Perfect Gel help to hold and repair the surface skin cells together for a healthy, smooth skin.
Tiffany's Quick Review 🙂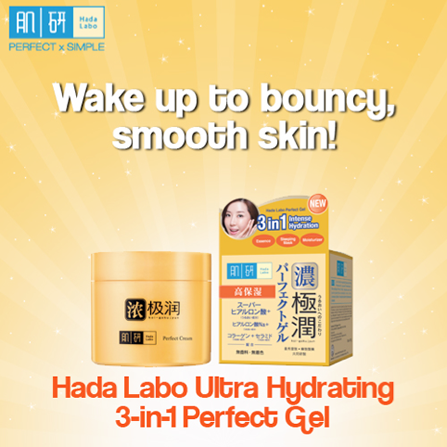 My Skin Condition: Acne-prone skin with blemishes
It took me some time before I dared to use the Hada Labol Perfect Gel as my face is currently being 'governed' by Ms. Sylvia from Sylvia Skin Atelier. As she understands my skin condition best, I wanted to make sure that I wouldn't undo whatever they had done to my skin by experimenting random products.
How to know if your product is suitable for your skin?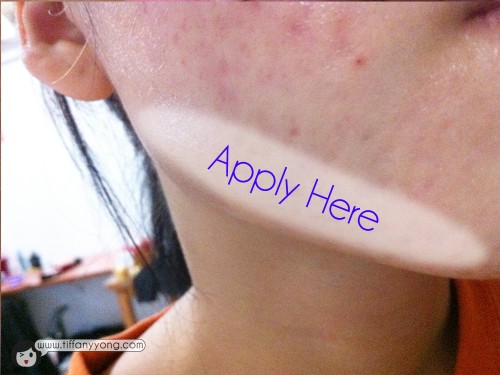 Ms Sylvia taught me the method of applying a thin layer of the product, in this case, the Hada Labo Perfect Gel on the side of the chin, along the jawline overnight. If I don't get any redness or pimples the next day, the product is safe to use!
Verdict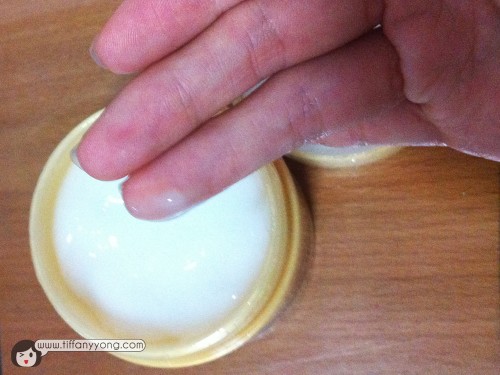 Suitable for night use and long hours in air-conditioned office.
I tried using the Hada Labo Perfect Gel as a night mask after my night cleansing and toner. It is thicker and creamier than the usual hydrating gel I used, but my skin feel smooth and moist in the morning especially if I sleep with the air-con at night.
Not suitable for day use.
Although the Perfect Gel is recommended for night use only, I tried applying it in the day to see if it works as a day cream. But in less than 1 hour after application, my face will look very shiny and oily.
Use it every other day instead of daily.
Although the gel is suitable for daily use, but I prefer to use it every other day as a hydrating night mask instead of a daily essence or moisturiser.
Do You Know?
Your skin will "drink in" moisturizer best if it's applied while your skin is still damp. That goes for face and body! So apply your moisturizer when your skin is still damp! -Ladies' Home Journal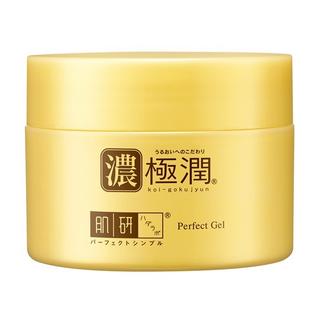 Check out Hada Labo (SG) Facebook Page for more information about their products and giveaways! Hada Labo Perfect Gel retails at $35.90 at Watsons!
xoxo




Disclaimer: Please be rest assured that even though the product was sponsored, it does not have any bearing on the content of this post. Opinions stated are genuine and honest. Also note that all sources, information, content, links are valid to change at any time.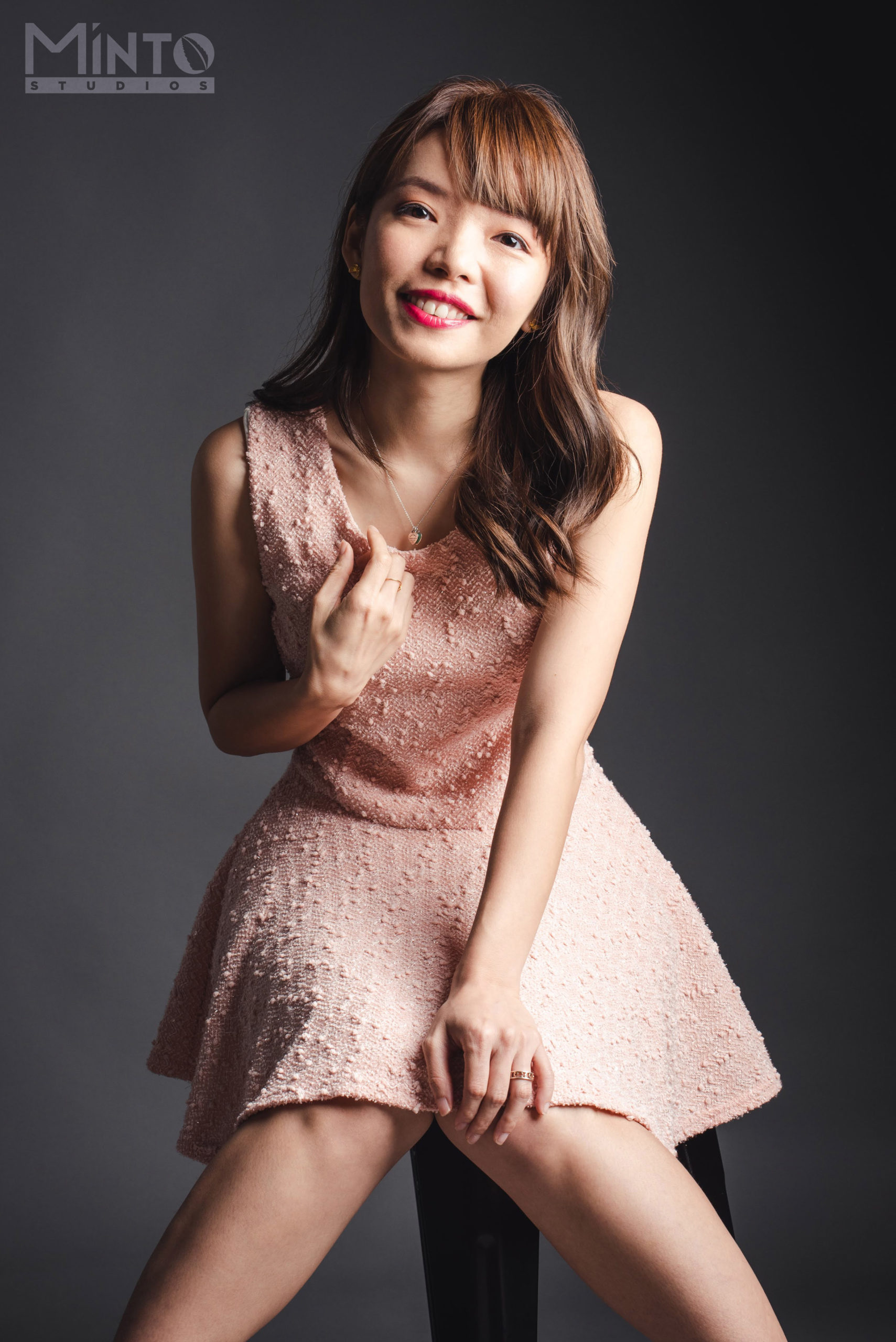 1/2 of #TheEpiphanyDuplet, Tiffany Yong juggles her ABCs – Acting, Blogging and Coaching/Consulting as she is fuelled by passion and drive to succeed.
It is not easy to make a living in Singapore just purely based on Acting, so with Blogging to help her with her online presence, and Coaching kids drama, private tutoring and freelance social media consulting to finance her life, she is currently leading the life most people hope to have: Living the Dream!