Be Acne Free 3: Clearing deep set acne and scars with Sylvia Skin Atelier
This is the third instalment of my journey in search of solution to my acne prone skin. This time, I'm using facial to help speed up the process! You will be seeing ALOT of pimply and unedited photos, so don't be too shocked to see the original state of my skin, because I'm so happy to tell everyone, it's finally getting better.
Before I went to Sylvia Skin Atelier, I would not dare to leave the house without make up. The more pimples, the thicker my make up. Yes, I know that it was bad for my skin, but HOW CAN I FACE THE WORLD with such bad skin? I guess this is something most girls suffering from acne feel too- the insecurity, lack of confidence and depression from the ugly red bumps on our faces. So here I am, sharing these experiences, to tell you, You Are Not Alone!
My Original State
Below is the close-up photos of my left and right face after removing the thick slab of make-up. You can see that that are many little red marks which are scars from the previous breakouts and have yet to heal, and the big bumps which are the current acne.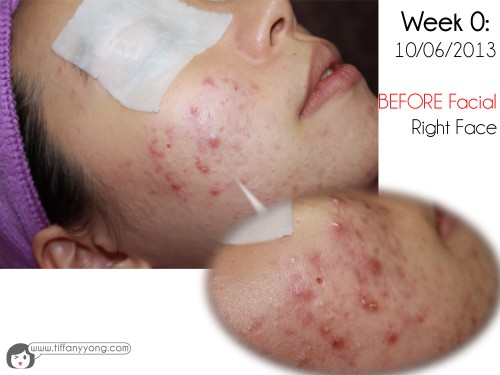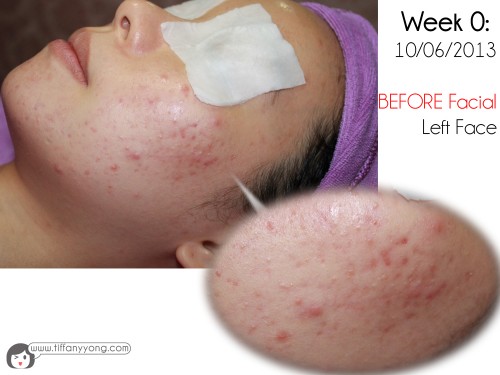 The Facial Process
Hazel, Sylvia Skin Atelier's manager and my beautician told me that the current state of my face is between a mild and serious case of acne breakouts (which means if I don't solve it sooner, it's going to get worse!) She recommended me the Glycolic peel facial to lighten my scars and treat my acne.
However, my skin will temporarily be more sensitive to the sun. Sunblock? Nope, it's actually bad for skin as the sunblock will block my pores too. So what I need to do is to put very thin layer of sunscreen and stay away from the sun whenever possible.
Distinct Differences in Handling and Use of Equipments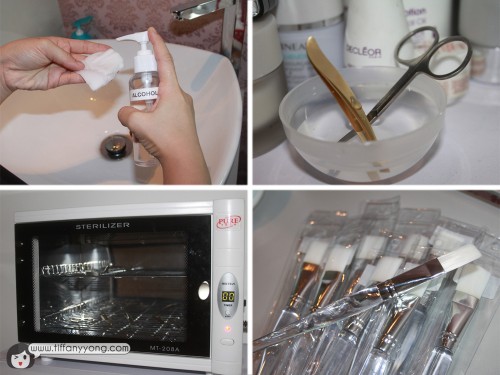 I took a look at the equipments Hazel used before starting my facial. All the extraction equipments were either brand new (aka disposable so it's not just for me!) or went through double sterilization.
For Glycolic peel, a brush is used to apply the liquid on the face before extraction, which means there might be bacteria on the brush after application. Even when cleaned thoroughly, there is still a risk of bacteria spreading to other customers if the brushes are reused. Thus, for hygiene purposes, Sylvia Skin Atelier uses a disposable brush instead. The cleaning towels are also used once and thrown away.
After every use, the equipments like the picking tool will be cleaned and sterilized before being kept in an sterilized (UV) box. And before every use, the equipments are also disinfected again to ensure they are absolutely clean!
Products used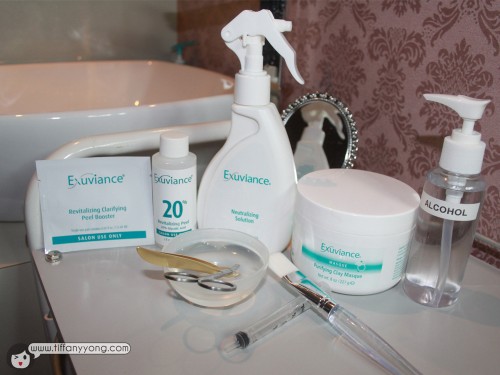 For my acne-prone skin, Hazel used the Exuviance products for my skin. Unlike many salons which will use generic bottles (so that the customers won't know what products they use), Sylvia Skin Atelier is very open about the products, so that customers can research or google on the products to know more. 🙂
Extraction
Most people HATED this part of the facial, but I love it! I know it is painful for those with low pain tolerance, but NO PAIN NO GAIN! And guess what, Hazel uses a special picking tool instead of the usual Comedone Extractor (which always leave ugly and lasting marks on my face). This picking tool is gentler and less painful on the skin. It is the first time I see a beauty salon using it. Trust me, I have gone to SO MANY Facial salons before I became a blogger and you wouldn't want to know what I went through.
Hazel told me that she wouldn't do much extraction the first time so as to gauge how my skin react with the treatment. But take a look at the extraction below!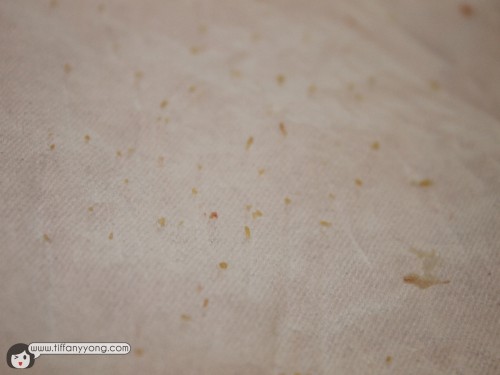 This is definitely NOT a little! She actually did a very thorough and almost painless extraction!
After First Facial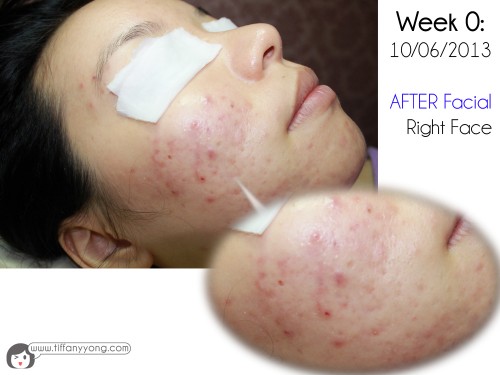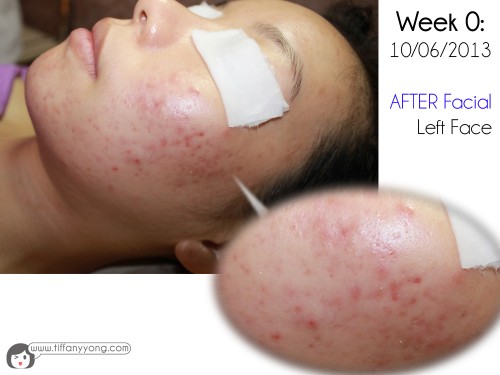 If you compare my face Before and After, the words to describe the photos LOADED and UNLOADED! I felt so much lighter (literary) and no more angry bumps on my face! Hazel and Sylvia said that for faster recovery, I should not be putting any make up as my face is quite raw after the chemical peel. At that moment, I really want to give a horrified face as I had a photo shoot in just 5 days' time. I told them that I will minimise the usage and only used it during the photoshoot.
BEFORE my Second Facial
Old habits die hard, and I suffered the consequences in the end. I actually continued using make up, with the same OLD excuses- It's really DIFFICULT for me to attend events Without Make Up and showing people my raw face! So see what I got!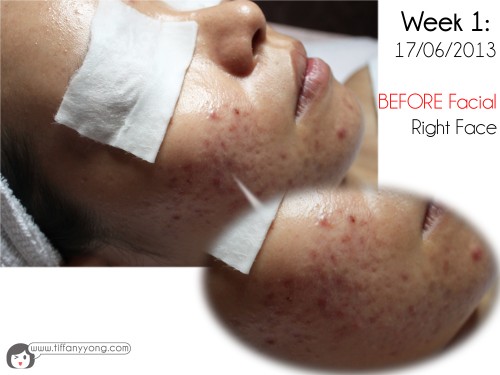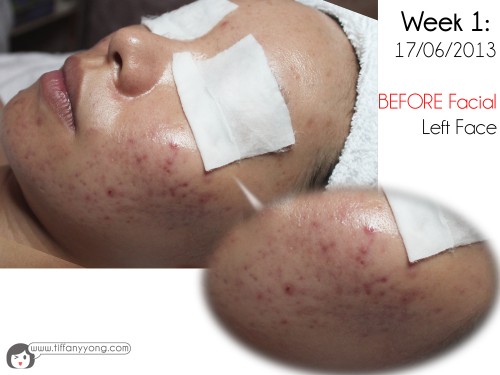 Although it's so much better than my initial face, there were still a few obvious bumps here and there.
AFTER the Second Facial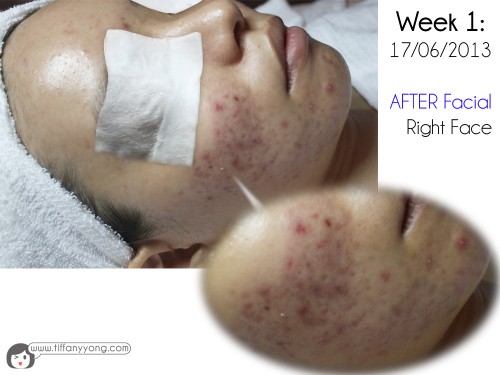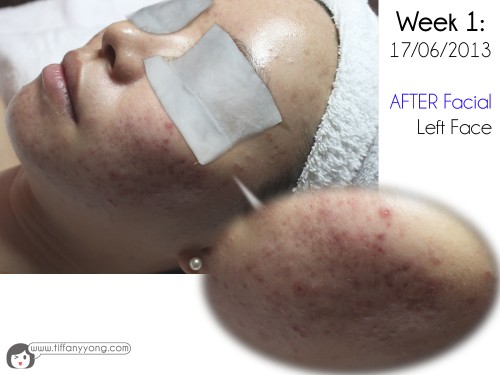 I was determined for my face to get better, thus I decided to listen to them. I threw away my 2-way cake, my BB cream, my concealer so that I wouldn't be tempted to use them again. Before I threw them away, Sylvia went through a make-up bag check for me, and to my horror, they are ALL not suitable for my skin!  The images below are evidences!
On the Third Appointment/Week
This would be what I got on my second appointment IF I had been a good girl and listen to Hazel's and Sylvia's advice. This is the POWER of Make UP! It can conceal but worsen an acne-prone skin!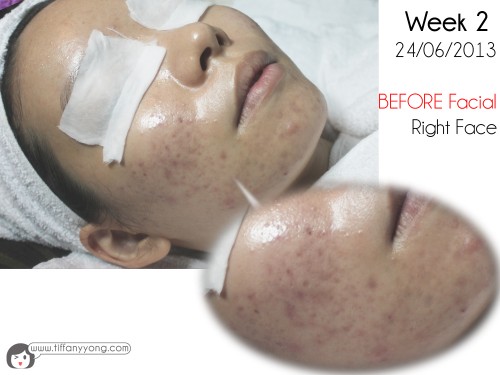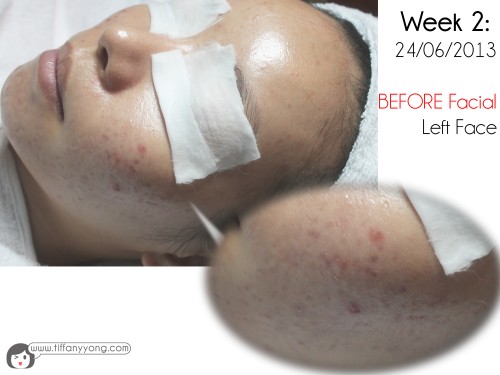 I was actually quite glad that I had the above results in just 2-3 weeks. If you are wondering if it means that I have to be in the public with a red and blemished face for some time, NOPE! (sigh of relief~) Sylvia knew how difficult it will be to be showing a blemished skin, so she introduced some products and taught me a few make up tips so that I can still turn up at events with a presentable face! (I will be sharing them in my next post!)
The Results in Just 2 weeks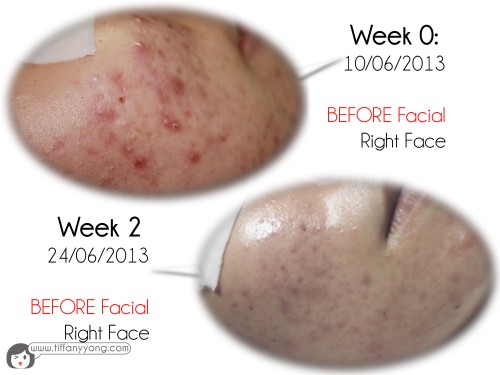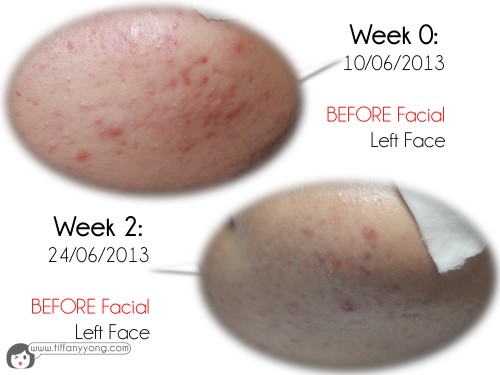 New Promotion!
*Quote Tiffany Yong for freebie products when you book your appointment!
Like Sylvia Skin Atelier Facebook Page to qualify!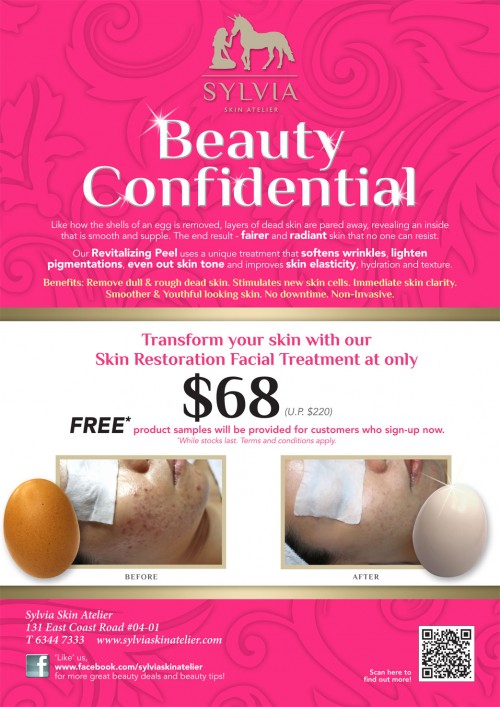 Next entry: I will be sharing the cleansing products I'm using for my acne-prone skin and some beauty tips Sylvia taught me!
Click here to know more about Sylvia Yeo (the founder) and Sylvia Skin Atelier.
xoxo




Disclaimer: Please be rest assured that even though the products and services were sponsored, it does not have any bearing on the content of this post. Opinions stated are genuine and honest. Also note that all sources, information, content, links are valid to change at any time.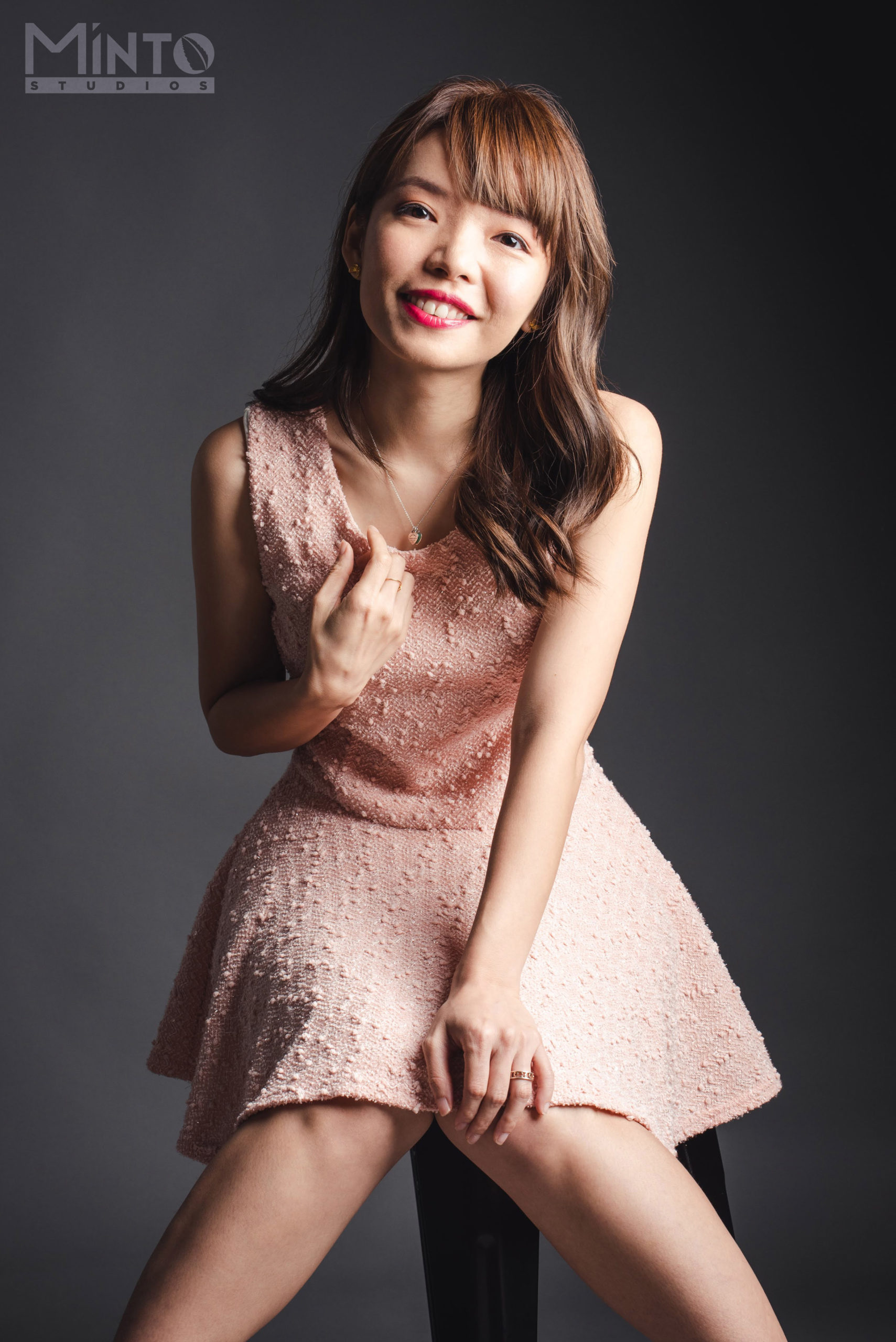 1/2 of #TheEpiphanyDuplet, Tiffany Yong juggles her ABCs – Acting, Blogging and Coaching/Consulting as she is fuelled by passion and drive to succeed.
It is not easy to make a living in Singapore just purely based on Acting, so with Blogging to help her with her online presence, and Coaching kids drama, private tutoring and freelance social media consulting to finance her life, she is currently leading the life most people hope to have: Living the Dream!