Couple Glossi Eyewear: Happiness is Simple and Fun
Do check out my 4 entries: Glossi Spectacles (Reflect Your Lifestyle) | Glossi Sunglasses (Reflect Your Confidence) | Glossi Eyewear (Lightweight Advert) | Couple Glossi Eyewear (Look at your Love)
Often, girls love wearing couple outfits, but some guys feel uncomfortable or embarrassed in them. I discovered that Glossi Eyewear has some many unique and fun designs yet in many forms of shapes. This gave me the idea of using Glossi Eyewear as a form of couple theme. Couple Glossi Eyewear can be in the form of similar frame colour but different in shape, or even different colour but different patterns.
My fellow blogger friend, Andy Kwan aka AndyStorm has kindly helped me to model for the photoshoot, and the whole series (surprisingly) came out to look like Taiwanese/Korean style! Inspired by Solvil Titus ads, I tried to do something similar, and thanks to my friend Priscilla aka Pingerrain who is brillant with coming up with all the sweet quotes. The photos look a little odd in English, thus, we decided to make it Chinese and the translation in captions 🙂
This can be looked at individually or as a series of photo-story.
Photographer: Koh Zhiyong
Model: Andy Kwan aka AndyStorm
Location: BFF Zakka Store
My Glossi ❤Love❤ Story Starts Here: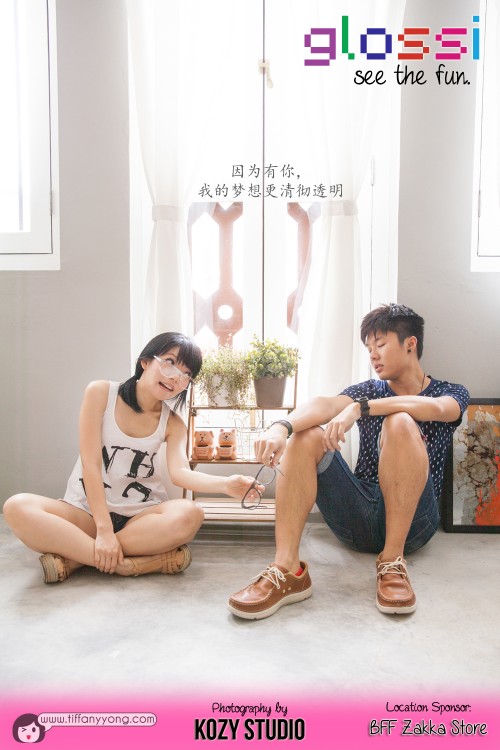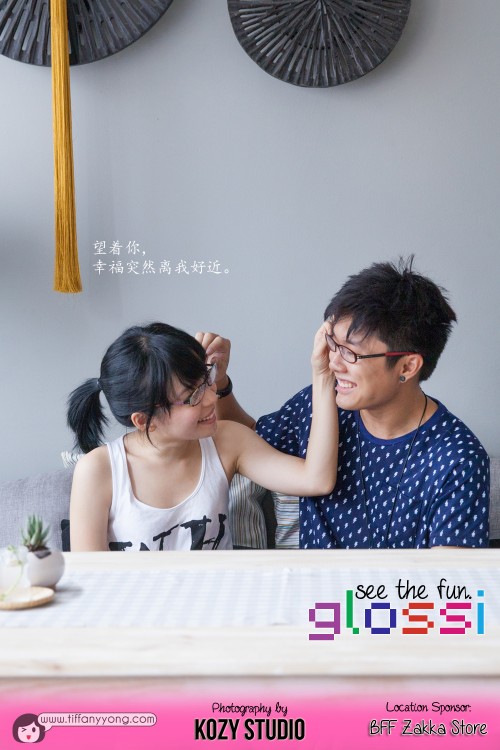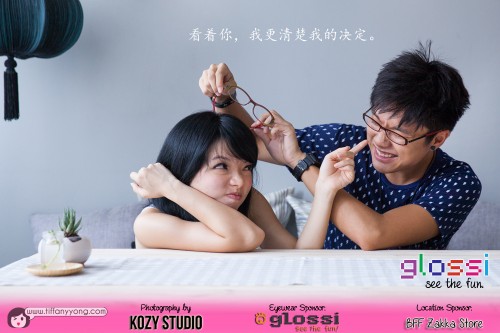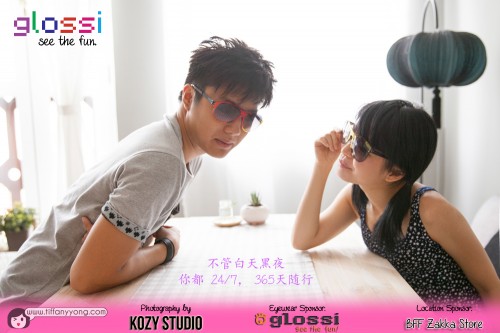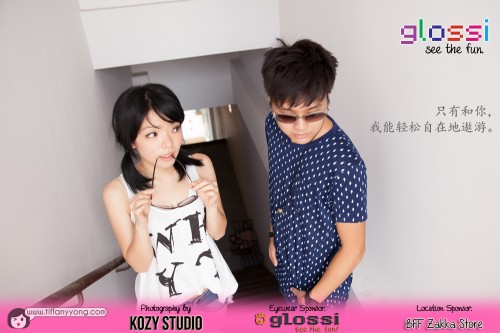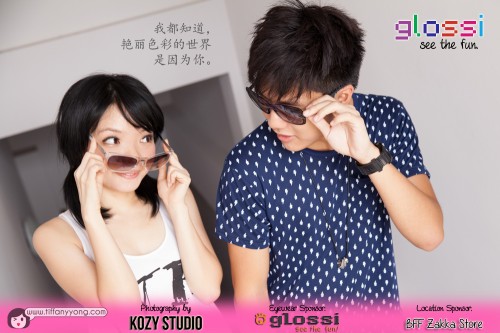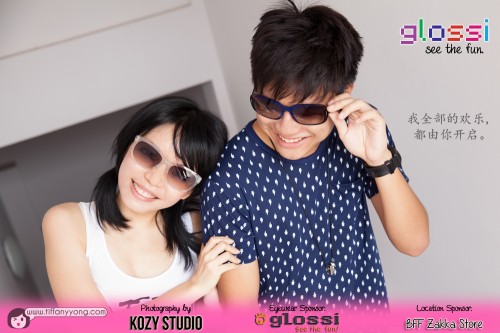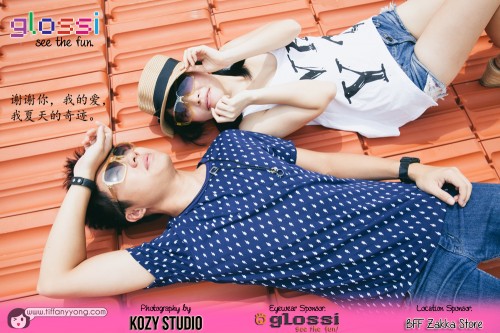 Take a Second Look
Before you treat this as a typical, cliché kind of photo story, take a second look at the quotes. Who do you think I'm referring to? winks
Glossi Eyewear is definitely a great and lasting gift. Not for your girlfriend or boyfriend, but for BOTH of you!
Glossi Eyewear is available for sale at
all Nanyang Optical Outlets


For more designs, check out www.glossieyewear.com or Glossi Eyewear Facebook Page
Special Thanks to Zhiyong from Kozy Studio and Andy Kwan for making this photoshoot possible!
Also, Jesseca Liu for lending me her beautiful BFF Zakka store for the photoshoot, and Priscilla aka Pingerrain for helping me with the sweet quotes!
Click to Vote!
This post is an entry for the Singapore Blog Awards 2013 Glossi Best Modelling Blog. You can know vote for me by clicking on the image below. Voting is valid once daily. 🙂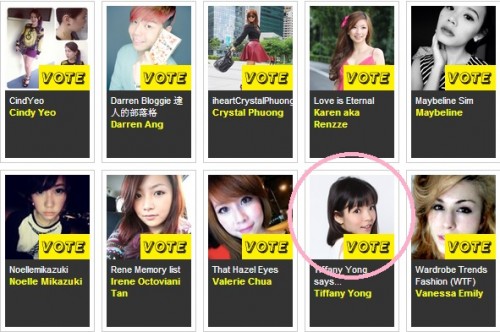 xoxo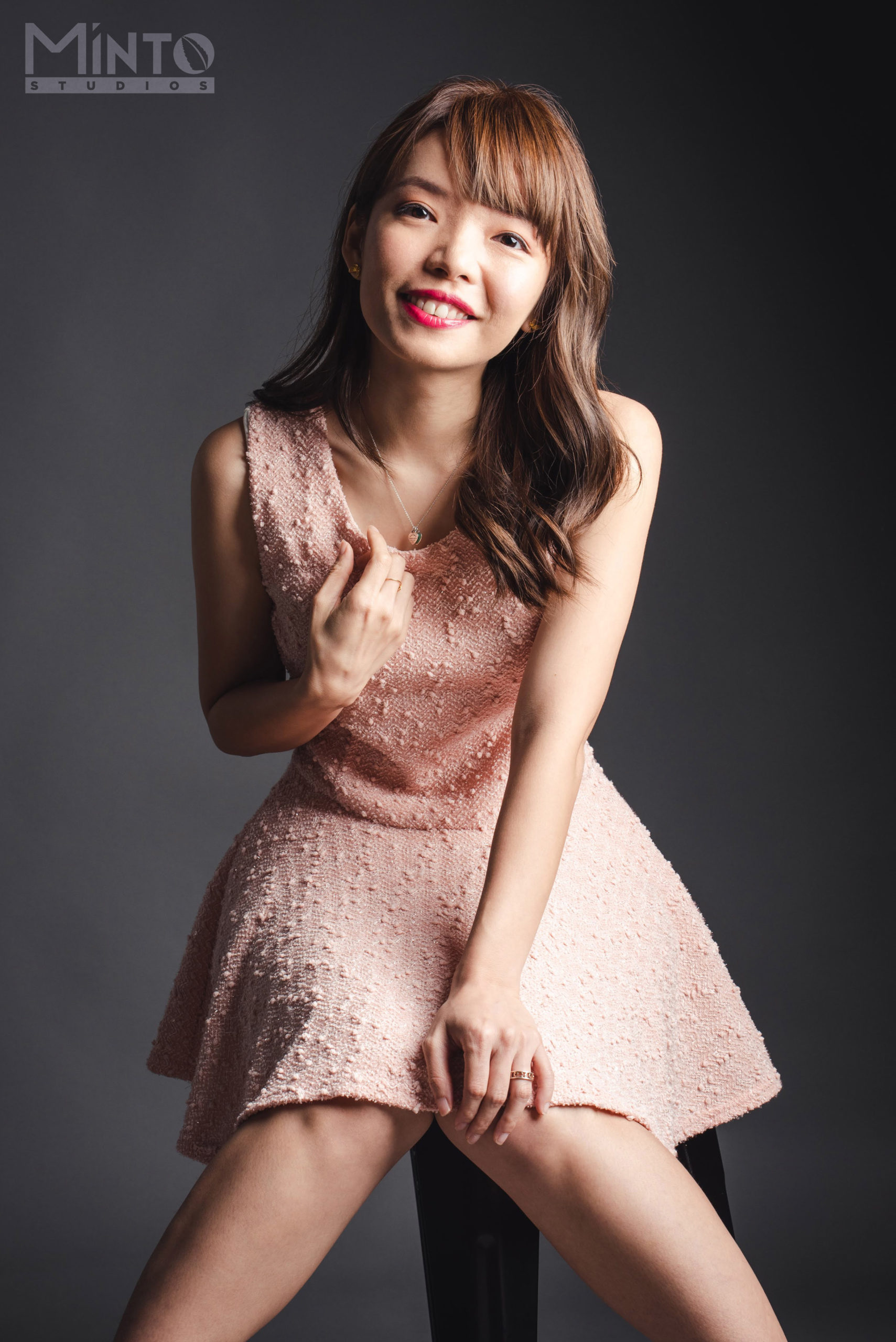 1/2 of #TheEpiphanyDuplet, Tiffany Yong juggles her ABCs – Acting, Blogging and Coaching/Consulting as she is fuelled by passion and drive to succeed.
It is not easy to make a living in Singapore just purely based on Acting, so with Blogging to help her with her online presence, and Coaching kids drama, private tutoring and freelance social media consulting to finance her life, she is currently leading the life most people hope to have: Living the Dream!