SHOW IMAGE 秀髮印象 : A rose in the Secret Garden
Located just one block away from Eunos MRT Station, SHOW IMAGE Hairdressing (previously called Clare's Hair Spa) is a new hair salon in the neighbourhood. Along the stretch of shops, there are quite a number of neighbourhood hair salon which provides really cheap services. But SHOW IMAGE  is the only one that has a handsome and young hair stylist provides really good services at an affordable price. And of course, I have to thank dear Vincent for introducing me to them!
Here's some photos of the Hair Salon:

The hair salon reminded me of the Secret Garden (Not the Korean show) but the novel by Frances Hodgson Burnett. It is like an undiscovered treasure in the bustling neighbourhood. It gives a little personal touch to a stylish hair salon. The first impression I had when I stepped in, besides the good looking hair stylist Wingz (ok, maybe I should really stop raving around him) was how there were little polaroids, with friends' and customers' well-wishes and greetings. (my photo is up there now! muahaha).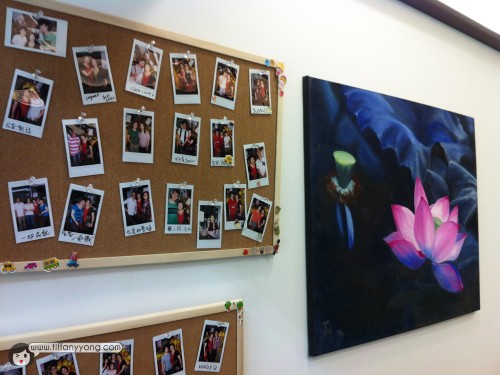 Getting Ready… or not?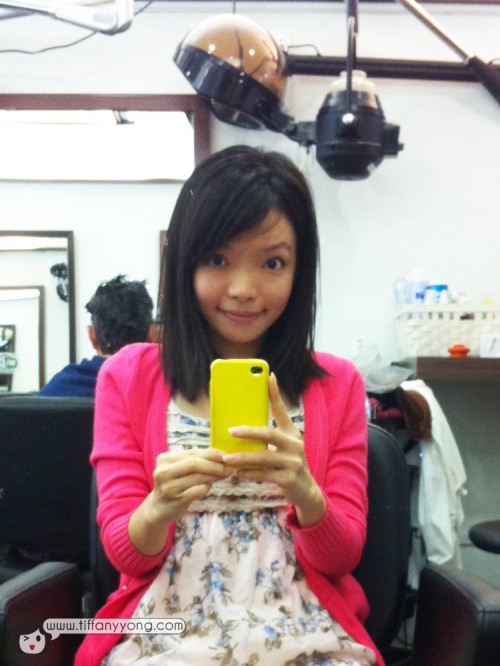 Confession: I was never the daring and cool type of person who dares to do all sorts of funky hair colour to their hair. So when Wingz suggested using purple and red partial dyes for my hair, my eyes literary went like this (O.O). But I decided to go ahead with what he suggested as he is too good-looking I wanted to see what type of style he can come up with. (Afterall, he says he had been looking at my photo before I came to come up with a design 😛 heart melts lol)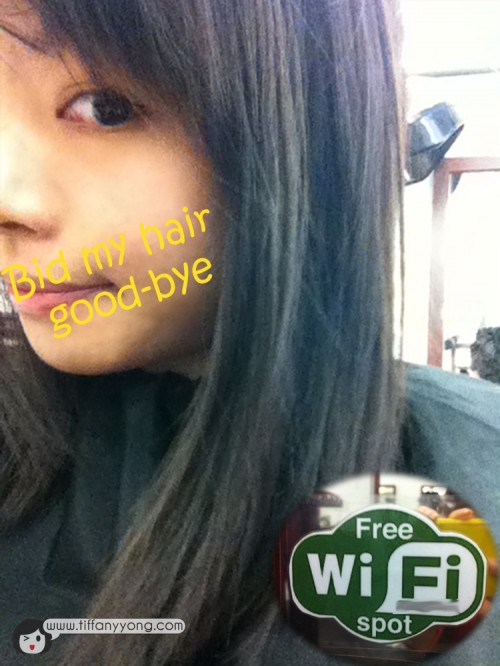 They have free wifi too! Woohoo~ reminds me of my Genting days.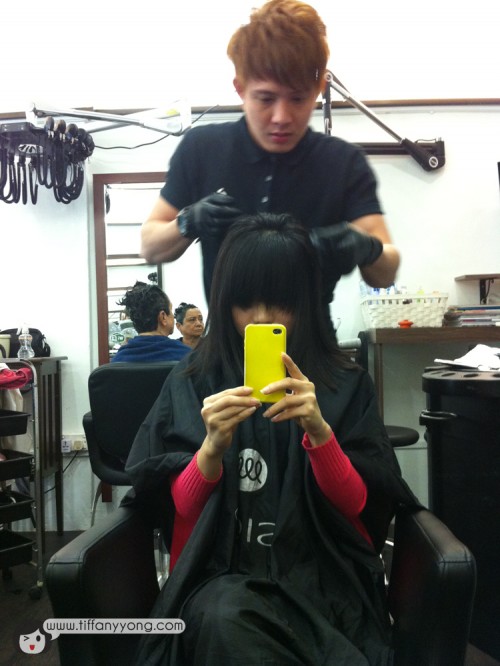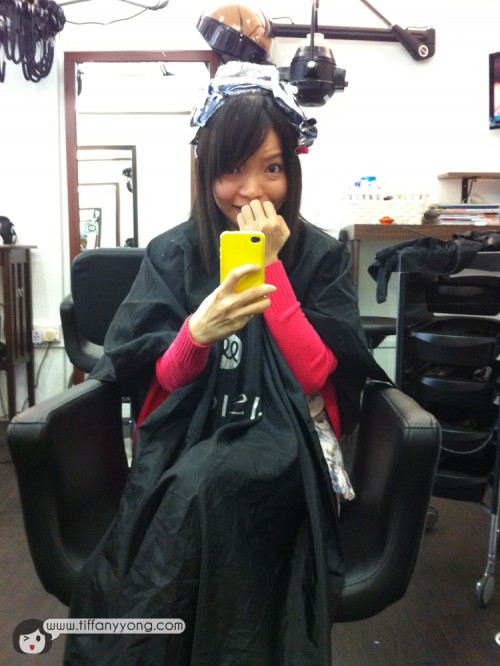 Even though I gave the go, I was kinda feeling jittery. My concern was whether bleaching my hair will spoil it, as I had the experience of seeing my hair become dried grass after rebonding my dyed hair. So Wingz said that he used a special formula where even if the hair is going to turn Ash/White/Blond/Pink, all it needs is one time bleaching to remove our hair colour.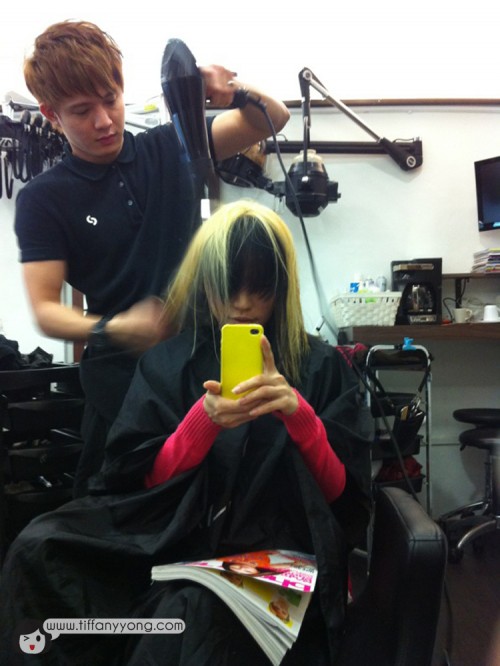 Wingz told me not to be shocked after looking at it, as it's not completed yet. I wasn't shock, more of "WOW, I'm a Blondie! like my ex-colleague Dr Shondelle!"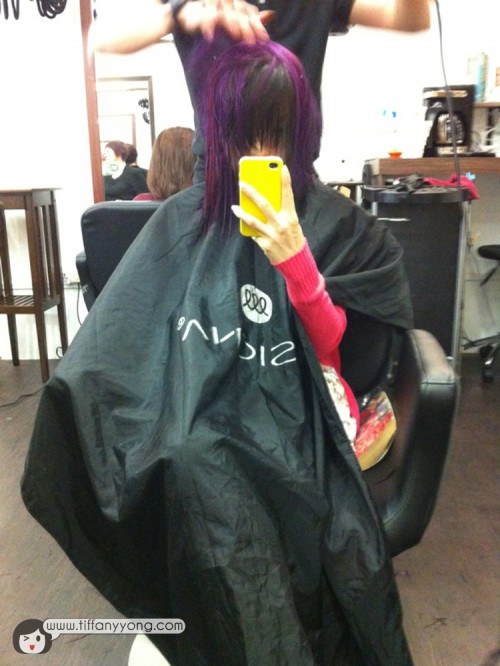 The purple part was done really fast as Wingz said he had to do it quickly so that the colour is uniform throughout. I like how the salon was suddenly filled with fragrant coffee smell when I was sneezing from the hair bleach. The salon serves great coffee and tea too (no me!)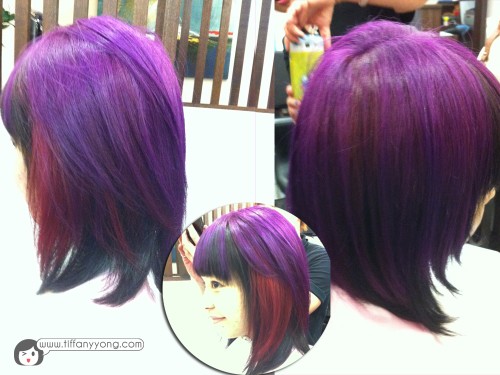 Tadah! Here's the final look! Haha… The colour is more of a pinkish purple, and I feel so out-of-place with my goody2shoes outfit. My friends love it, though my mum nearly killed me for coming home suddenly with a purple head.
What's Next
Wingz told me hair dyes like purple, pink, red, blue etc doesn't stay long, unless you go through treatment which helps to enhance the colour. true enough, take a look at my hair colour 4 days later!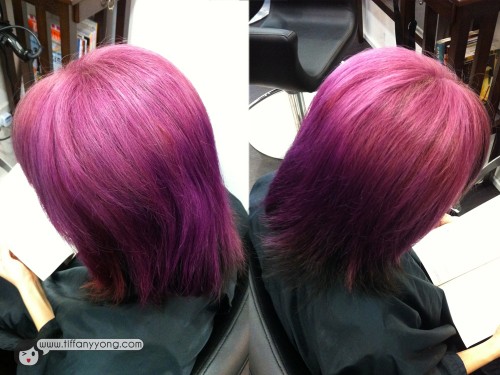 So off I go for the treatment!
SHOW IMAGE Treatment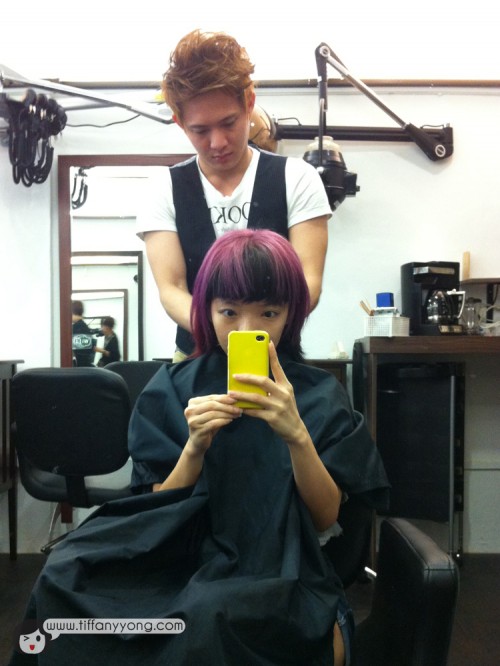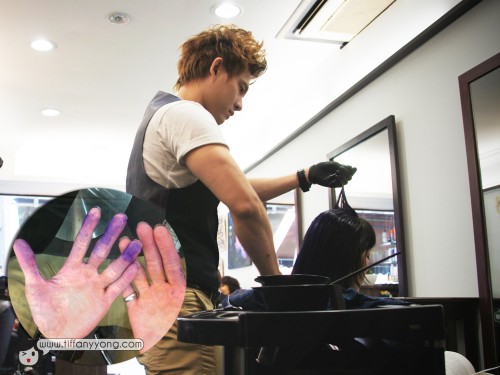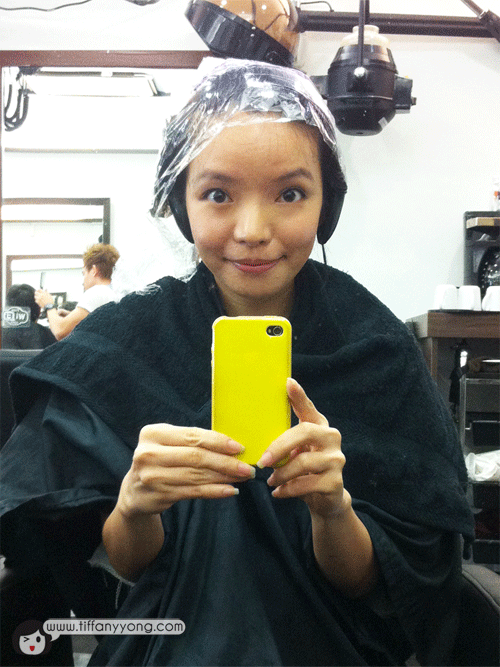 Pardon for the lack of photos during the process, I was busy going through the range of books they have here.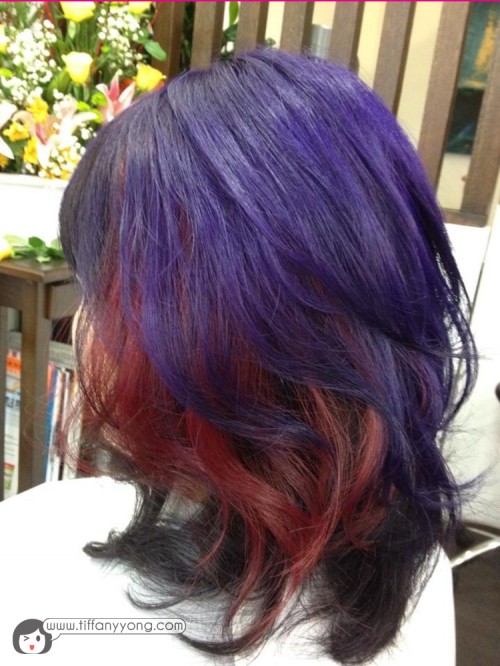 I TOTALLY LOVE the new colour! It's intense violet (bluish purple) and without lights, it actually look blackish (to appease my mummy?) My dad actually thought I coloured it black as mum was unhappy. So this is actually pretty attention catching yet not over-the-top. My type! Haha, I couldn't stop looking at the colour under the light! So nice la!
P.S. The curls were just temporary ones for the photoshoot.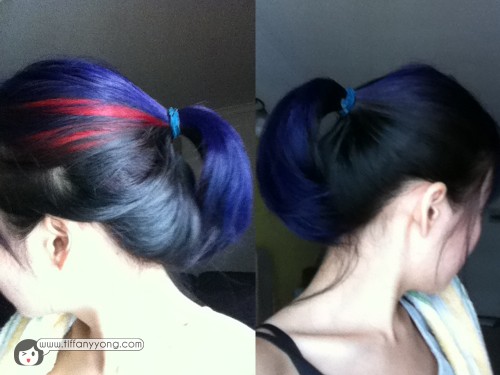 Guess what, after going to so many events, no-one has the same hair colour/ shade as me! Though I was getting alot of "attention" whenever I walked into the train station. Everyone will do a double-take when they see moi hair. Thanks Wingz and Claire (da lady boss) for the wonderful experience!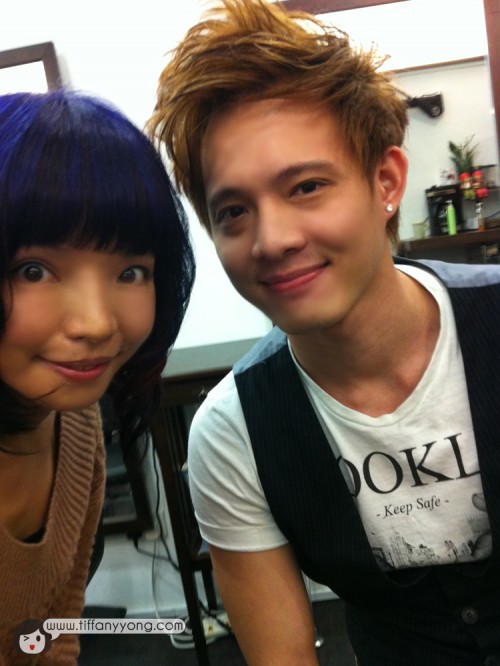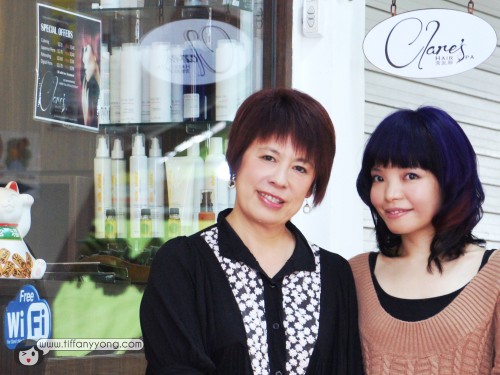 So as usual, me being a lobang blogger, will try to get some discounts for my readers or friends.
Discounts Discounts!
SHOW IMAGE is having a promotion from now to 30th June
– Classic Color + Hair Cut = Original Price $88 NOW $48++
– Classic Perm or Japanese Perm + Hair Cut = Original Price $88 NOW $48++
– Rebonding + Hair Cut = Original Price $138 NOW $88++
– Digital Perm + Hair Cut = Original Price $178 NOW $98++
The "++" means the prices varies with the length of your hair.
The 10% Discount doesn't apply for the promotions they're having right now. Its available for non-promotional services only.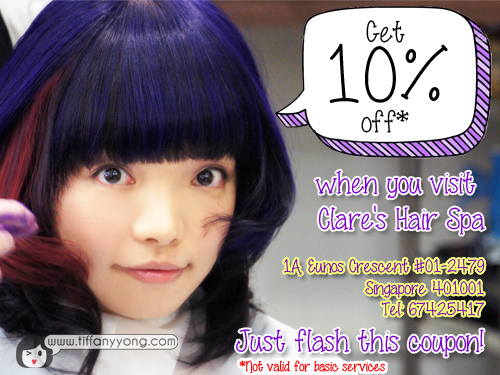 valid for Perm, Colour, Treatment only!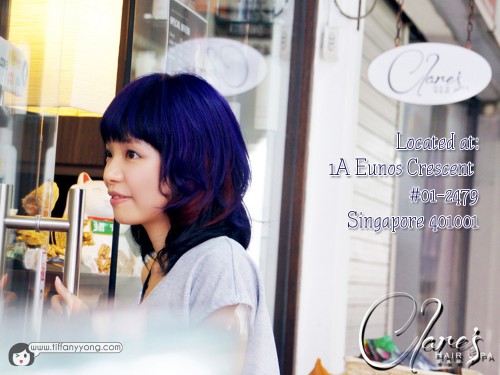 SHOW IMAGE is located at 1A Eunos Crescent #01-2479, Singapore 401001
Don has created a cool guide to get to the hair salon! Go check it out!
Go check out their Facebook Page for more promotion details!
xoxo




Disclaimer: Please be rest assured that even though the services were sponsored, it does not have any bearing on the content of this post. Opinions stated are genuine and honest.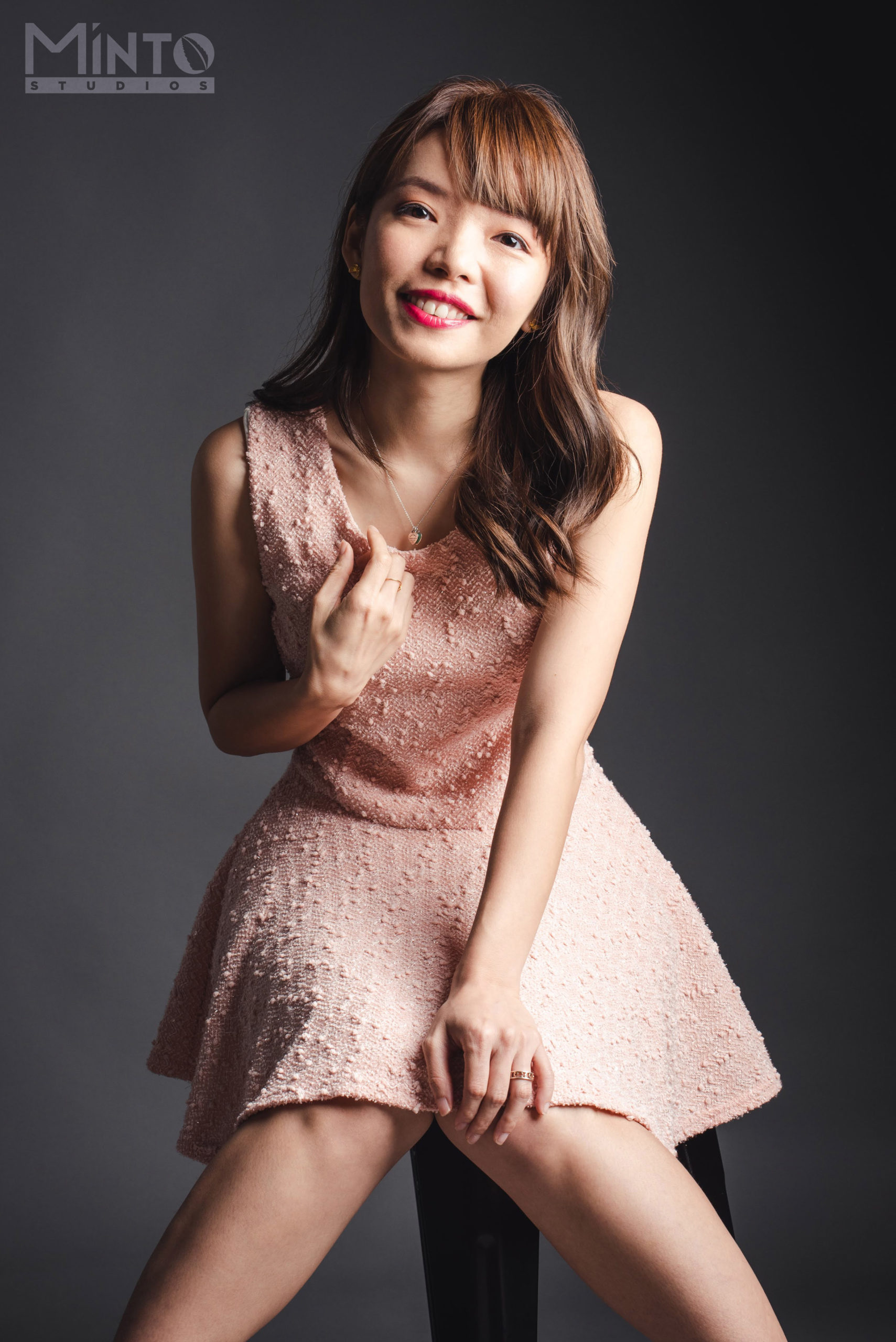 1/2 of #TheEpiphanyDuplet, Tiffany Yong juggles her ABCs – Acting, Blogging and Coaching/Consulting as she is fuelled by passion and drive to succeed.
It is not easy to make a living in Singapore just purely based on Acting, so with Blogging to help her with her online presence, and Coaching kids drama, private tutoring and freelance social media consulting to finance her life, she is currently leading the life most people hope to have: Living the Dream!