Let's Meet Up at Morganfield's this February
*5 x $10 Vouchers for Morganfield's fans! Read on for more details!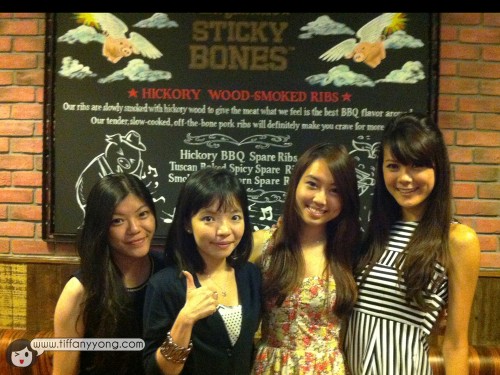 Morganfield's Story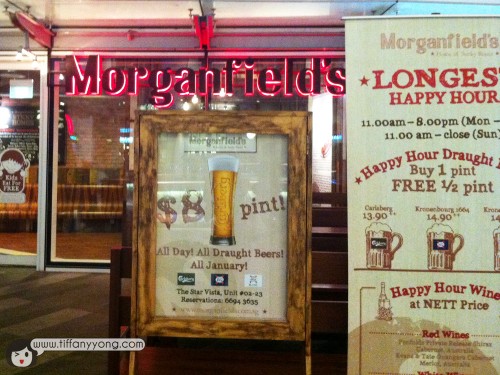 I walked into the restaurant and there's something about the setting that made me relaxed. Was it the childhood cartoon "Popeye" showing on a little screen near the table? The comic drawings of "flying-pigs" ? (It DID made me feel guilty eating ribs 🙂 I guess if I'm tipsy, the western cowboy-ish posters might make me shout out "Howdy!" haha…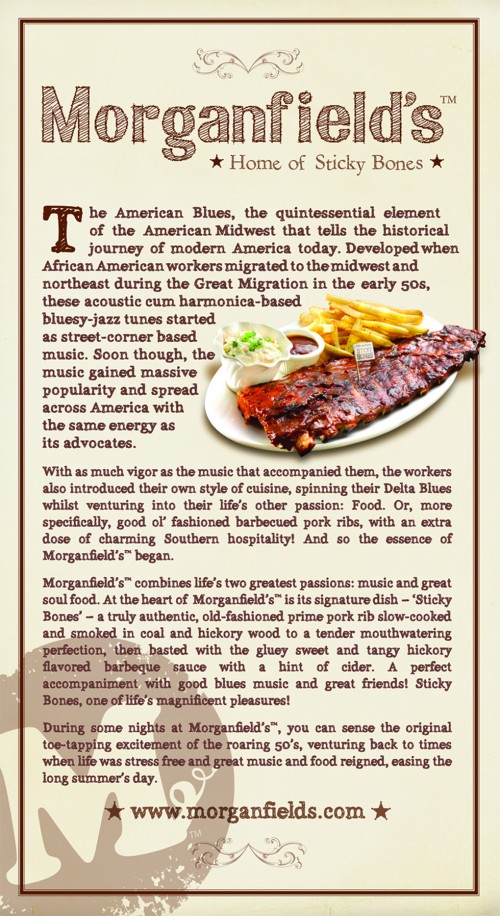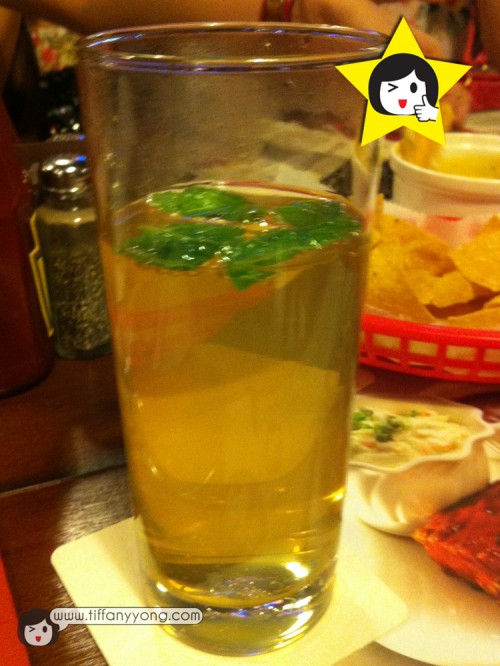 I ordered a warm Ginger Pop, something different from other bloggers, they ordered cold drinks like Berry Easy and Lemonade instead. In many countries especially in Europe, people drink ginger ale to reduce nausea, abdominal pain, or upset stomach. Ginger is good for people who suffer from coldness and helps reduce stress. The drink is delicious! If you hate the taste of Ginger, fear not, because the taste is covered by the mint leaves and honey! It's a drink that serve as a good appetizer too. Ladies suffering from menstrual cramps, or bloated stomach can take drink without feeling guilty. 😉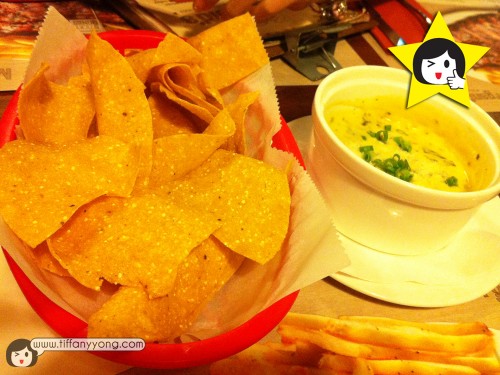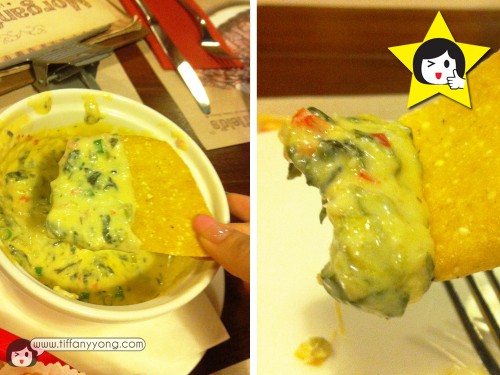 According to the marketing manager, this is a popular dish amongst the after-work office crowd as it serve as a side-dish with the beer~ I beg to differ, because I don't think I will be chatting or drinking after I tasted this! The crunchy corn tortilla chips goes well with the not-so-salty spinach dip. Usually, I get nauseous when there's too much cheese, but this dish is really addictive. The baby spinach and crab meat add texture to the dip, which can fill your stomach (a little) if you are in just for a drink.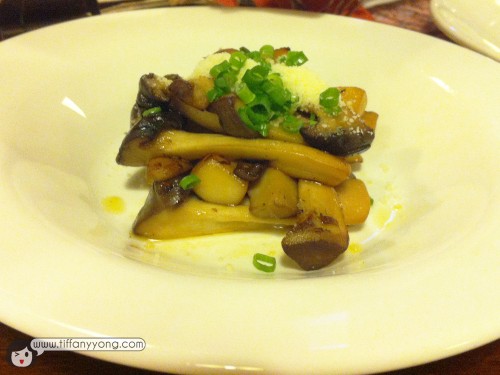 I love mushrooms, and you can't go wrong when the mushroom is cooked with butter! But perhaps the mushroom were cooked on the same pan or grill as the ribs, I could taste pork in the mushrooms.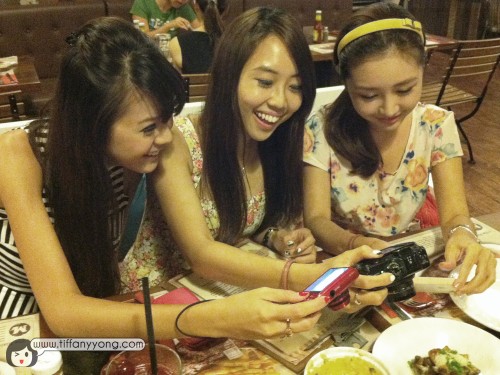 Morgan's Family Platter
So we were served the new promotion dishes for February, and it's pretty exciting to be the one of the first few customers to taste and see the dishes!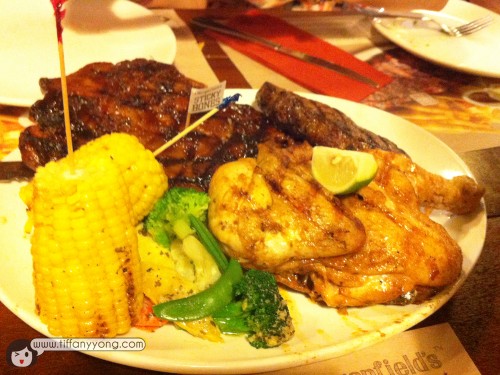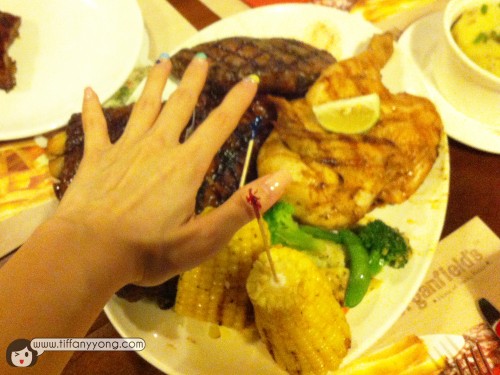 Our jaws dropped when we saw the dishes being served. Are you sure this is for 3-4? It looks more like for 5!
Morganfield's different as their food were served in huge portions (American-style) compared to other restaurants who down-size their dishes in Singapore. This encourages sharing amongst friends and family instead of the usual one person to one plate.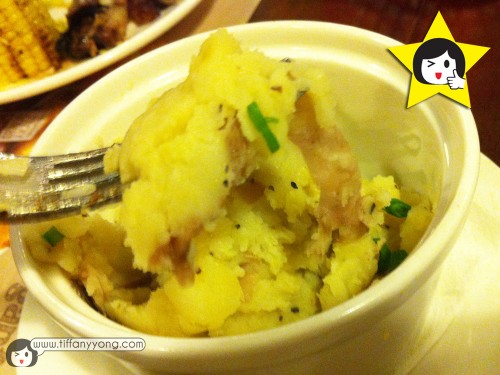 I like the Mashed Potato! Without any gravy, you might think it will be too dry. But the potato skin gave it an added texture which managed to impress me~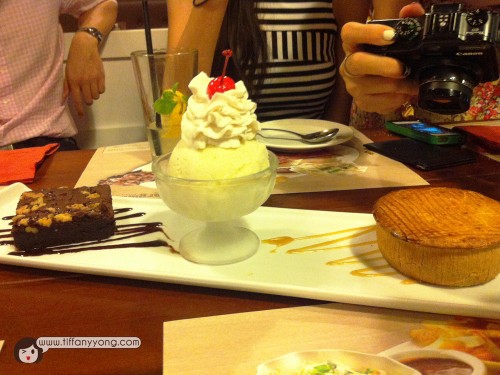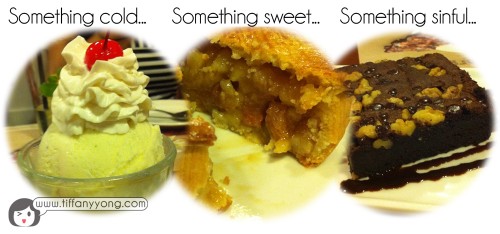 With the dessert platter, you can have a portion of everything! The apple pie isn't too sweet (which is good) but the apple bits are a tad too small for me. I prefer having chunkier apple bits. The warm brownie served with ice-cream is definitely NOT a single serving. I guess, "Share" is the term for this meal.
Morgan's Couple Combo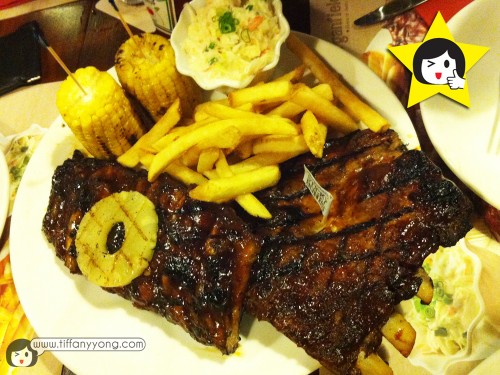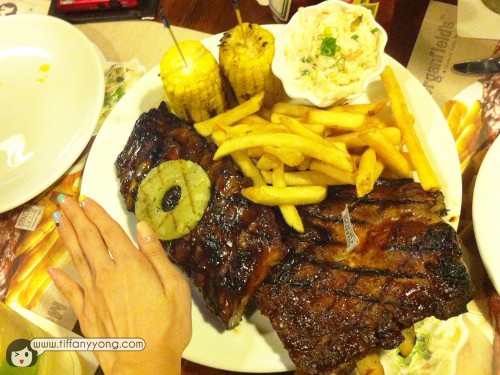 My favourite will be the Honey Rum* Baby Bones, where the BBQ sauce is made with sticky honey, juicy pineapple and Bacardi rum. It's slight hint of sourness gave me a more significant impression as compared to the regular Hickory BBQ, the old-fashioned style barbecue sauce. The ribs were soft enough for me to get the meat off the bones with my utensils (Even though I used my fingers in the end, haha)
P.S. Take a closer look at the 2 couple combo ribs- for him and for her. Can you spot it? haha~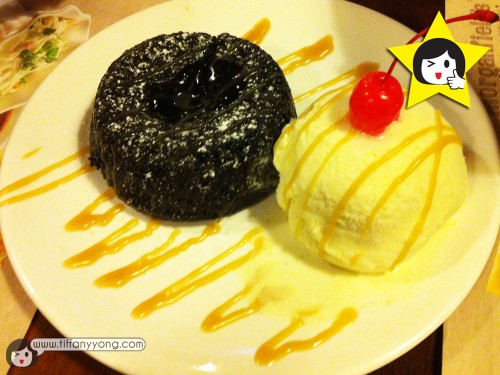 Warm, moist and rich chocolate, this is definitely a hit amongst the ladies. And the serving is BIG too. You might think the Lava cake is going to come in with a small scoop of ice-cream, but it came in with a BOWL-size of ice-cream! It was served together with the dessert platter, but we girls nearly "cleaned up" the plate before looking at the platter!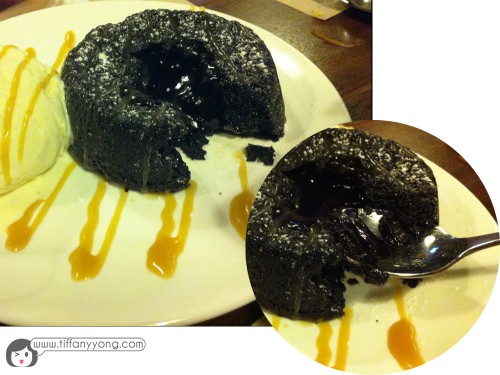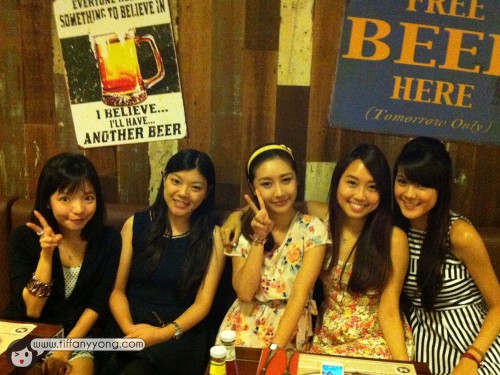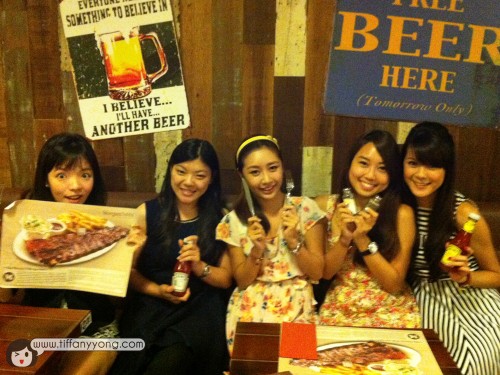 I will definitely recommend Morganfield's  as the place for friends and colleagues to chill and catch up after work, small families for festive or occasional dinners, and also definitely couples (as you can share the food! sweet sweet hur! lol)
With the February promotion, it will be a great chance for friends to reunite and catch up, while enjoying the various popular Morganfield's dishes!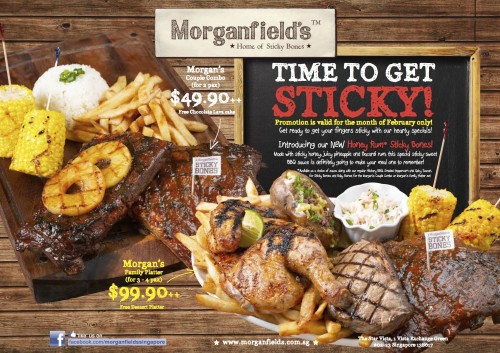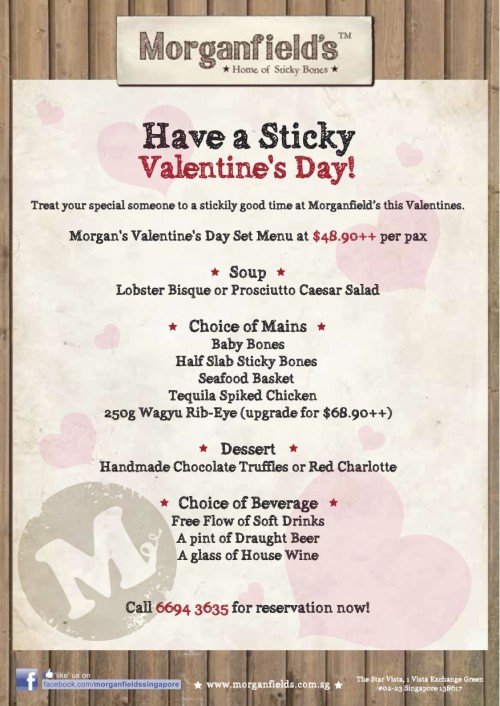 *5 x $10 Vouchers for Morganfield's fans!
TO WIN, simply follow the 3 simple STEPS below to get your voucher!
+++++++++++
Step 1: (On Facebook) 'Like' Morganfield's Facebook fan page to be eligible to participate.
Step 2: (In this blog) Answer the question by leaving a COMMENT in this blog post: What's Morganfield's signature dish? (Answer is in this entry!)
Step 3: (on twitter) Tell me which meal will you go for if you get the voucher! Just follow ME on Twitter, and tweet this "@tiffanyyongwt #Morganfields Voucher Giveaway! I want to win the voucher at tiffanyyong.com to get the Couple's Combo OR the Family Platter OR Valentine's Day Set Meal!" (Choose 1 ONLY)
The first 5 people who complete ALL the 3 steps win one $10 Voucher!
P.S. Comments are available for viewing only when I approve them. So winners will be announced on 5 February 2013! Vouchers can be collected and redeemed at Morganfield's @ Star Vista.
Where's Morganfield's?

1 Vista Exchange Green #02-23 The Star Vista Singapore 138617 (Buona Vista MRT)
Tel: +65 66694 3635
Opening Hours: 11am-10:30pm (Sun-Thurs), 11am-12am (Fri-Sun)
Thanks streetdirectory.com for the invitation! Do visit MorganField's Official website for more information and like Morganfield's Facebook Page for latest promotion!
xoxo




Disclaimer: Please be rest assured that even though the food were sponsored, it does not have any bearing on the content of this post. Opinions stated are genuine and honest.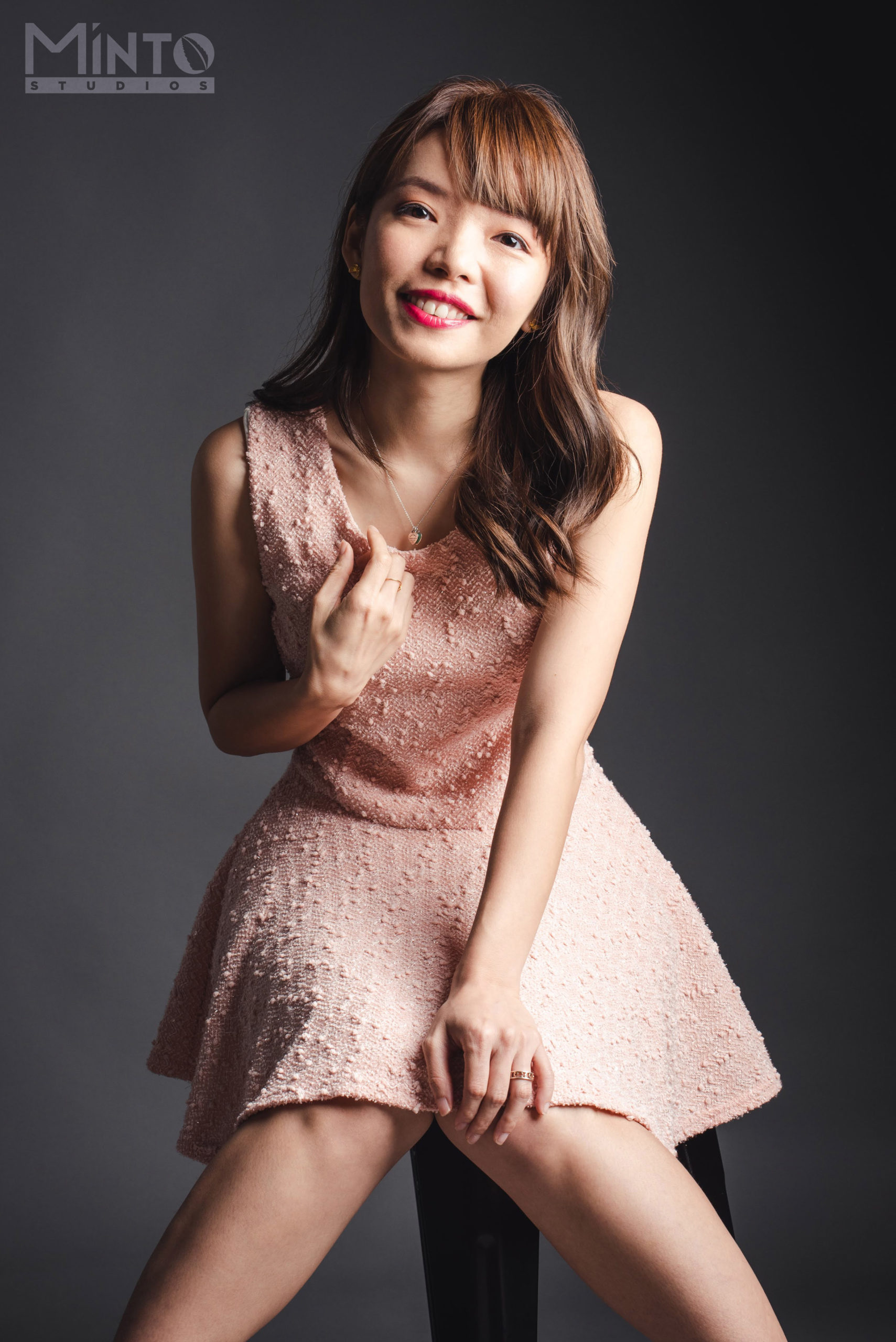 1/2 of #TheEpiphanyDuplet, Tiffany Yong juggles her ABCs – Acting, Blogging and Coaching/Consulting as she is fuelled by passion and drive to succeed.
It is not easy to make a living in Singapore just purely based on Acting, so with Blogging to help her with her online presence, and Coaching kids drama, private tutoring and freelance social media consulting to finance her life, she is currently leading the life most people hope to have: Living the Dream!