南方小羊牧場 When a Wolf Falls in Love with a Sheep | By tiffanyyong.com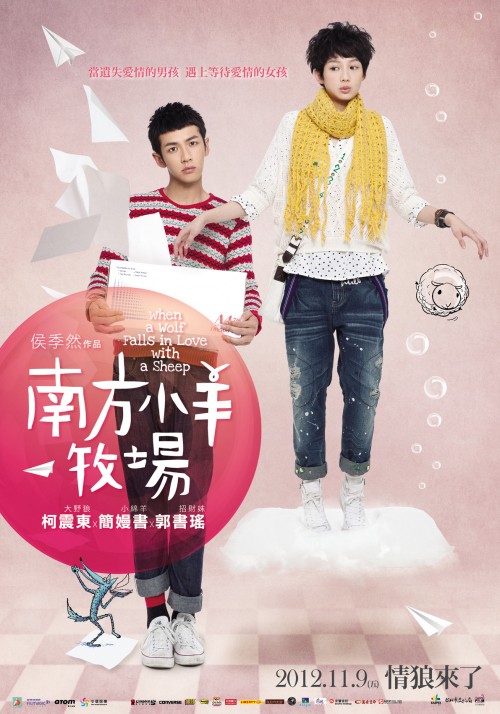 南方小羊牧場 When a Wolf Falls in Love with a Sheep Movie Synopsis
Tung's love has gone!
Clenching the note left by his ex-girlfriend in his hand, heart-broken Tung (Kai Ko) arrives in Nanyang Street. As the note says, "I'm off to the cram school", Tung comes to Nanyang Street, a byword for cram schools in Taipei. In the street bustling with businesses, Tung begins to work in a photocopy shop as fate dictates. Every day, Tung photocopies tons of exam papers while expecting to run into Ying, his ex-girlfriend, at some point.
One day, the exam papers from Bisheng School catch Tung's attention – a sheep in a monologue appears on the back of the paper every day. The sheep turns out to be a creation of Yang, a teaching assistant in the cram school. Yang (Chien Man-Shu) is an eccentric girl with whimsical ideas. She dreams of becoming an illustrator, but the harsh reality traps her in the school. The back of the exam papers becomes her canvas where she keeps her dream alive. Yang hopes that the students would respond to her "South Sheep Farm", but so far her sheep has been completely ignored. Actually, these seemingly cute innocuous illustrations are a tool that Yang uses to countdown to a fresh new start after she was dumped by her ex-boyfriend.
One afternoon Tung draws a Big Bad Wolf next to the Sheep and writes a humorous comment on the paper. It begins as a private joke, but the exam papers are copied and sent back to the school by accident. No one could expect that the Big Bad Wolf would trigger such enthusiastic response from the students! More and more animals join in the conversations between the Big Bad Wolf and the Sheep and bring the "South Sheep Farm" to life!
A debate over love is launched on paper. It smokes the all the unique characters out of their dens in Nanyang Street. There are the crazy but kind-hearted street chief, the shrew and yet caring salesgirl, the mysterious priest with a soft heart and the pensive fried rice street vendor. The encounter with these people gradually changes Tung's view on love. Moreover, the love that Tung is blinded to begins to surge to the surface. Still confused about love, can Tung say his final goodbye to his first love and move on to the next relationship?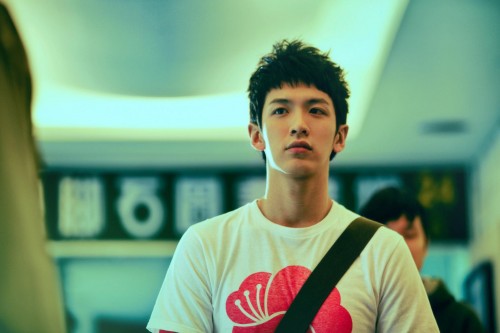 阿东的爱情不见了 !
捏着女友小颖留下的「我去补习了」的纸条,失魂落魄的阿东来到了热闹拥挤的补习街,糊里糊涂的被拉去影印店当店员。阿东只好每天一边印制大批大批的考试卷,一边期待能在人来人往的街上遇见小颖。
有一天,必胜补习班的考卷吸引了阿东的注意,一只喃喃自语的小绵羊孤单的出现在考卷背面,原来这插画来自补习班助教小羊的杰作!古怪爱幻想的小羊,有着与众不同的逻辑,向往成为一个插画家,却只能暂时窝在补习班,把梦想寄托在考卷背面,期待学生注意到她的「南方小羊牧场」,可是学生们却毫无反应。大家都不知道的是,这一则则慵懒可爱的插画,其实也是失恋的小羊给自己的爱情倒数…
那天下午,阿东在小绵羊旁边画了只大野狼,并写上自以为幽默的胡言乱语开始跟小羊对话,没想到,无意间印出去的考卷竟引起学生们的热烈回响,愈来愈多动物也加入这场羊狼的纸上对话,俨然把考卷变成为一个真正的「南方小羊牧场」!
一场爱情的辩论赛就在纸上瞬间扩散!惊动了补习街里卧虎藏龙的各种人物:热心疯狂的里长伯、精明可爱的补习班招财妹、神秘温柔的牧师、忧郁迷人的炒饭哥…一连串的奇遇,一点一滴的改变阿东对爱情的看法,阿东不见的爱情也慢慢浮出水面。对爱情似懂非懂的阿东能顺利跟初恋Say byebye,遇见下一次恋爱吗?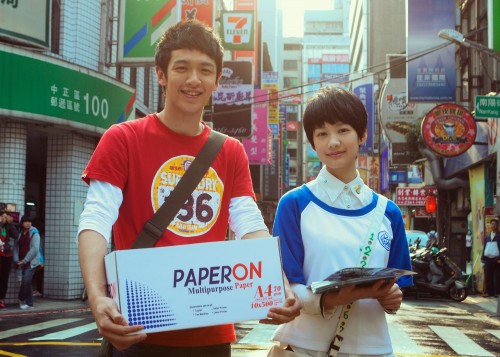 Viewer's rating: 4.5/5 *****
南方小羊牧場 When a Wolf Falls in Love with a Sheep Movie Review
Thanks Festive Films and Wanbao for the movie tickets. And I received a cute notepad too!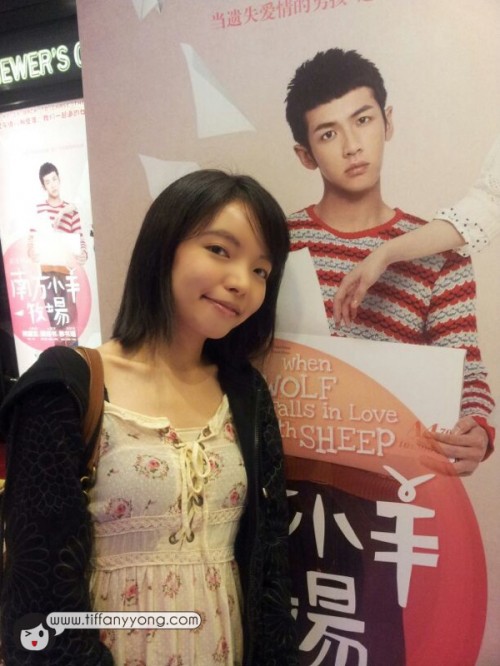 Before I watched the movie, I saw news about how the tickets sales were not as good compared to "Apple of My Eye" and the show was not as nice. I was skeptical too, because I wasn't really a fan of "Apple of My Eye" either. The movie was pretty good, the music was great, but to go crazy over that show? Erm, not for me.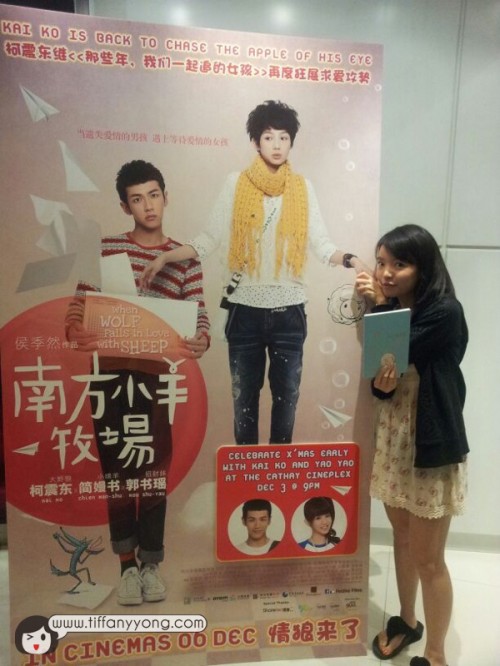 But after the movie, I personally felt that 南方小羊牧場 When a Wolf Falls in Love with a Sheep is actually nicer than "那些年,我们一起追的女孩 Apple of My Eye"! In what ways? besides the nice, sweet little ending, I felt that I can relate to 南方小羊牧場 better. It also have many nice little quotes of encouragement, which made me feel that, hey, I'm actually not alone, someone understand how I feel! The feeling of looking for the particular one, to have a double take when you see a familiar back, to be waiting for the reappearance… This movie is not just about first love, but also teaches one to learn to let go, to get over and to love again.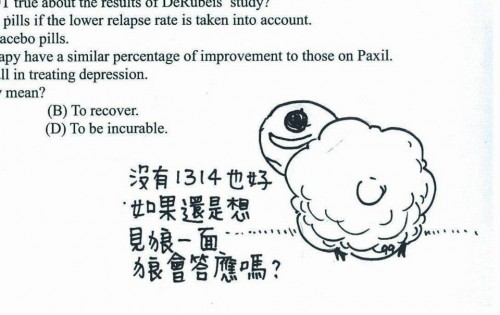 In one scene, the sheep asked, "到底有沒有1314(一生一世)呢 Is there forever in romance?" I wondered about it too, the guy who promised me 1314, I guess many girls or guys may had the same experience as me. Where have the promise gone to?
I also like the different perspective where they film the video, one particular memorable one is the part where the camera is placed on the box of exam papers and different people carry it. Also, the drawings of the sheep and wolf brought out the deepest feelings of the characters, and also said it out for us.
For couples in love, watch it. It's sweet. For guys and girls out of love, watch it, it's healing. For everyone looking for their next love, watch it, it brings you hope. 🙂
If you love the movie and wish to see more of the drawings, go like their Official Facebook Page now! And also Festive Films fanpage.
xoxo



*Disclosure:
Event invitation from Festive Films, thanks to wanbao.
No monetary compensation was received for the movie review. All opinions are my own.
Watch 南方小羊牧場 When a Wolf Falls in Love with a Sheep behind the scenes here!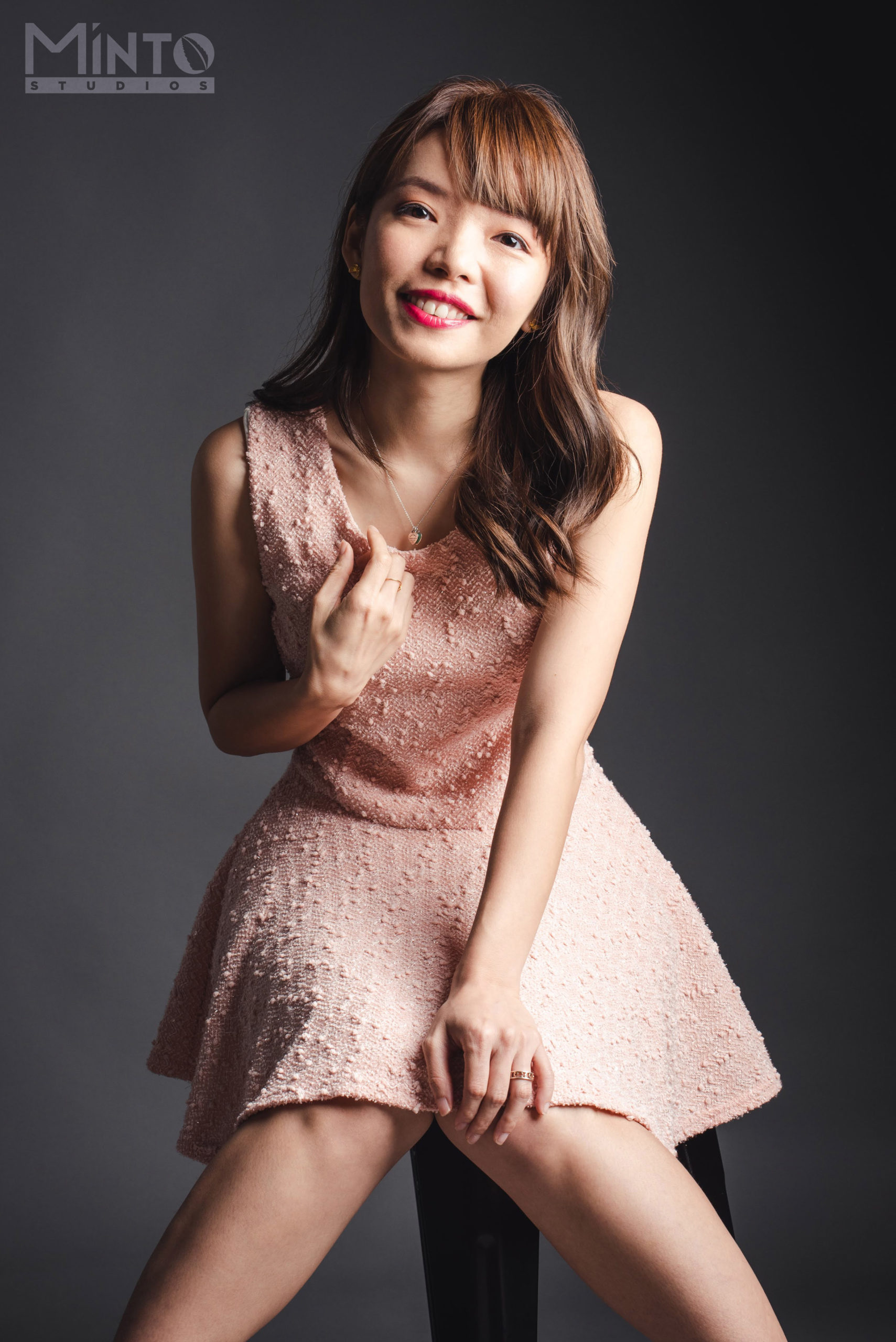 1/2 of #TheEpiphanyDuplet, Tiffany Yong juggles her ABCs – Acting, Blogging and Coaching/Consulting as she is fuelled by passion and drive to succeed.
It is not easy to make a living in Singapore just purely based on Acting, so with Blogging to help her with her online presence, and Coaching kids drama, private tutoring and freelance social media consulting to finance her life, she is currently leading the life most people hope to have: Living the Dream!