I wish… I wish… I can get a Nikon 1 J2!
OMG, Nikon is giving out a Nikon 1 J2 + 10-30mm lens (worth S$919) to one lucky blogger! And I was just talking about wanting to get a camera in my previous blog post! (see here)
Ever since I put on braces (and started losing weight), I started cam-whoring and couldn't stop! Haha… I took a screenshot of some of my photos on Facebook and see what I found? Photos and photos of me trying out clothes and taking pictures of them… I think most girls do that huh?
So the J2 comes in 6 different colours~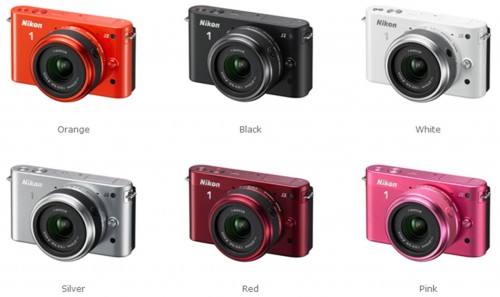 Check out http://bit.ly/Y2OiSY for more details!
and my Camera Choice would be: Pink!
Pink colour is like my first choice for anything I buy if there is a colour choice. If you take a look at my iphone cover above, majority are Pink!
Why Pink?
Most people would think that I like Pink because of Hello Kitty or whatever pink cutie characters out there. But the real reason why I love Pink colour is because of Might Morphin Power Rangers! Haha… MMPR is my all time favourite childhood show and Kimberly (aka Amy Jo Johnson) had influenced me alot. Many of the decisions I made when I was back in school were also because of MMPR (like taking up gymnastics etc)
Pink is often referred to as "the color of love". Do you know that having a personality color pink as your favorite color means you are loving, kind, generous and sensitive to the needs of others. You are friendly and approachable with a warmth and softness others are drawn to.
The colour pink also gives people the quiet, feminine feel, and it can used to soothe conditions of anger and feelings of neglect. Pink can be used to awaken compassion, love, and purity.
Friends who know me will definitely know that I am not the dainty, gentle kind of girl. But I love this colour because it enhance the inner "soft" side of me and make me less "tom-boyish".
Look good and fashionable with Nikon 1 J2
So how to look good with Nikon 1 J2? I guess this is VERY easy since the camera is so stylish itself! I dug out some photo shoot I took at Lollytalk as well as for the new blogshop Delilarose Label. Here are some sample photos:
Pink
Although the Nikon 1 J2 is a bright pink, but you can see that it goes well with any shade of pink or red. To look good with this camera, do not have more than 3 different colours on your body/accessories so that it will look nice! Nikon pink goes well with dark shades of colours, black, white and of course, Pink (duh!)
Black
I thought it will be fun to share the look-book for other Nikon camera colours. Black is an easy colour to match. It can go well with pretty much every colour. But I would recommend something light so that it brings out the style of Nikon 1 J2!
White
With white, you can easily find your camera in your bag! Haha… I was deciding between white and pink, but I decided to follow my heart's desire! Just like black camera, Nikon White is also very universal. The difference will be black gives people the mysterious and sexy aura, while white gives people the impression of pure and angelic.
Silver
I was surprised when I researched and found out that Silver personality is patience, determination and organization! Try wearing some silver accessories when carrying your Nikon Silver. I feel that it goes pretty well with colour range between black and white (meaning different shades of grey!)
Red
Red is the colour of prosperity in the Chinese custom! This is a great choice to bring out when doing house-visiting over Chinese New Year! I will usually wear something red (or dark red) so that it matches Nikon Red. (It looks more like maroon to me though) so Maroon coloured clothings are fine too!
Orange
Orange is such a rare colour in camera brands! So I guess it will be pretty cool to be carrying an orange colour camera around! So with the usual rule where you wear shades of orange or orange accessories, you can't go wrong!
That concludes my entry for today~ I really hope to get the Nikon 1 J2 Pink!
xoxo




Credits: Information about colours from Empower Yourself with colour psychology.
First photo from Lollytalk and the rest from Delilarose Label.
Disclaimer: This is a Nikon contest. Photos are edited for the contest. I am not an ambassador of Nikon 1 J2.
More about the new Nikon 1 J2
So I went to do a little research on the new Nikon 1 J2, and see what I found!

According to cnet.com, Nikon 1 J2 has had some useful features that are absent in competing models. Compared with the Olympus Pen E-PM1, Panasonic Lumix GF5 and Sony Alpha NEX-F3, the J2 is equipped with the fastest burst-mode at 10 frames per second and has the fastest maximum shutter speed at 1/16000. So this means I can capture really fast-moving action when I attend events! Also, thanks to the Motion Snapshot mode, I can record high-speed video for playback in slow-motion. It is also the lightest and most compact entry-level interchangeable-lens camera around, and even has a time-lapse recording feature.
With the special smart photo selector and motion snapshot features, photography becomes even more fun and easy.
For more information about Nikon 1 J2, visit the Nikon official website!
« Parker Movie Review Rendezvous Restaurant Hock Lock Kee (Nasi Padang) »